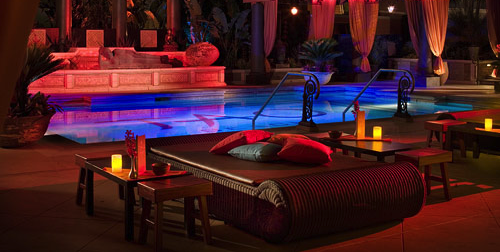 With summer slowly creeping up, it's about that time you start figuring out which Las Vegas establishments are worthy of your summertime business. The locales are quite plentiful, but your time, of course, is limited; so you don't want to be wasting time and money at some lower rate establishment. Included in this list, you will find some of Sin City's hottest locations that have the ideal amenities and space for those summer parties. Whether you are looking to party beneath the desert sun or wait until the full moon rises, one of these locations is sure to cater to your needs.
Rehab
Las Vegas is known for its parties, but none is as popular as the Hard Rock Hotel's Rehab. Occurring every Sunday throughout Sin City's pool season (typically end of March through September), Rehab is the largest pool party, on any day housing well over 1,000 people at a time. Rehab takes over the Hard Rock's Paradise Beach complex, which is a large space that offers plenty of seating, a tropical setting, and several different pools to escape to.
Rehab's atmosphere is much like that of a nightclub, and its slew of celebrity guest appearances and special guest DJs only serve to amplify that feel. Though Rehab takes place right smack dab in the middle of the day, it's hard to acknowledge the brutal sun when you're knocking back your fair share of alcoholic drinks and taking a dip in one of several pools. You can also escape to the rear of the pool, where a smaller bar and a mini-pool enclave welcome those looking to break away from the party. What's more is the line of cabanas that, for a price, offer up a private escape complete with furnishings, a television, miniature fridge, and air conditioning.
Chateau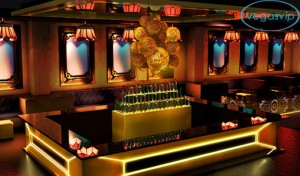 Nestled across the street from the famed Fountains of Bellagio lays an establishment that, from the outside, looks to be nothing more than a balcony overlooking the Las Vegas Strip. Beneath this balcony, though, in the recesses of the Paris Resort and Casino, lays Chateau, an elegant nightclub space that provides entertainment inside and out.
While Chateau's interior is a gorgeous display of chandeliers and a 10-foot tall fireplace, the real crème de la crème is Chateau's outdoor gardens and balcony, accessible via a pair of glass elevators. Chateau Gardens, located just beneath the Eifel Tower, offers the nightclub experience in the fresh desert air. With views of the Strip and Bellagio's fountains, this outdoor nightclub space is perfect for simply lounging around; and since the night air helps to cool down the desert heat, the experience is a comfortable and refreshing one.
TAO Beach
It's got the name, and it most definitely has got the look. Acting as a daytime extension to Sin City's most famous nightclub, TAO, TAO Beach can only be described as a nightclub in the sun. Orange canopied cabans lines TAO Beach's refreshing pool, providing shade without separating one too much from the party at hand, while scattered daybeds allow guests to lay out and tan in the desert sun.
During the summer, TAO Beach is an oasis that will help you forget just how hot it really is. The pool, though it can get crowded, is ideal for those refreshing dips to avoid overheating. Grab a drink from the bar and head back to your own little enclave to enjoy the string of rich music, presented in part by TAO's resident and guest DJs.
The TAO usuals that grace the nightclub on a nightly basis carry over to the daytime version. High energy partying, luxurious amenities, a tropical setting, and a memorable good time are what wait for you at TAO beach.
VooDoo Lounge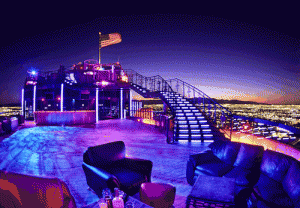 Set 51 stories above the Rio Resort and Hotel's main floor is a little establishment known as the VooDoo Lounge.When you step out of the elevator, you're greeted to a quaint little space that offers scattered seating and a bar. At one end of this space is an exit that leads its patrons on to an expansive rooftop setting. This space is more than just a vantage point that offers a distant look at the Strip and mountain ranges.
The VooDoo Lounge is an impressive addition to Las Vegas' slew of nightclubs as it goes above and beyond to create a new experience for all. The usual bar and DJ are amplified by the fact that, no matter where you look, you're staring out at the scenic view of the greater Las Vegas Valley. 51 stories up, the summer air is considerably cooler, ensuring that while the party is hot, you will not be.
Marquee Dayclub
At night, the Cosmopolitan's Marquee is a high energy party space that attracts celebrities from all over the world. Before the sun sets, though, this nightclub starts its party outside in the expanse of the Marquee Dayclub. Dayclub is a term seemingly coined by Las Vegas businesses and these locales are essentially nightclubs, sans the night.
At Marquee Dayclub, the party is just as wild as one would expect from the Cosmopolitan, simply with the added benefit of a pool, cabanas, and daybeds. As the summer sun beats on, Marquee's line-up of resident and special guest DJs will fuel the event with a continuous string of danceable music. Grab a drink from the bar and rock out poolside or pay the extra for the benefit of a private cabana, which comes with comfortable furnishings, a mini bar, and a flat screen television; either way, you'll undoubtedly get the most out of your time at Marquee.
Hyde
Hyde may be a little newer to the Las Vegas nightclub and lounge scene, but it has had no problem setting in. Located at the Bellagio, one of Hyde's best features is the line of seating that offers up unrivaled views of the mesmerizing Fountains of Bellagio. Hyde presents itself as sort of an old Italian Villa, which helps to give it a very summery feel. Decorated with accents that transport its guests to old Italy, Hyde is a pretty space that attracts all types of people.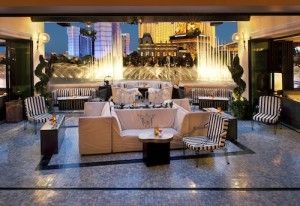 This establishment is not your typical nightclub, either. Replacing the loud music and crowded dance floor with a space that is more ideal for pleasantries like conversation, Hyde is a summer escape for those not willing to bake in the sun or sweat in a nightclub. The celebrity presence at Hyde is quite high, so on any given night you can expect to accidentally bump elbows with public figures.
Though Hyde does not house the loudest space, it is still the perfect locale to experience the Vegas nightlife. In fact, the quieter atmosphere will make it easier for you to appreciate the atmosphere, especially as you stare off at the rising fountains with the summer's moon looming in the backdrop.
WET Republic
WET Republic, at the MGM Grand, may not be the most sophisticated space that one has to choose from in Las Vegas, but its simplistic layout makes it very easy to settle into. The large layered pool comfortable fits each of its guests which ensures that nobody has to climb over one another while the slew of comfortable daybeds give patrons a place to relax during their stay.
The bar is easily accessible which only matters if you're not willing to hang around and wait for one of the gorgeous waitresses to come around and take your drink order. WET Republic is more an adult pool than it is a pool party, though the music can still be heard in the public pool on the other side of the brick wall.
Don't expect a party the size of Rehab, but you can guarantee that you'll still get a little taste of the new Las Vegas daylife that's been cropping up over the past few years.
Ghostbar
It may not be on the Las Vegas Strip and it may not be the most well known nightlife establishment, but Ghostbar houses its own quirks and perks that make it one of those establishments that you must check out during the summer. While you'll want to experience this establishments elegant interior, if you want to party in the warm summer air, you'll want to step out onto Ghostbar's unique balcony.
Sure, this smaller space will give you views of the Las Vegas Strip that match that of the Rio's Voodoo Lounge, but the real kicker is when you decide to look down. Ghostbar, which sits 55 stories up in the Palms Resort, houses one of the only glass floors that you'll find in Vegas. Through this transparent floor, you will have a birds-eye view of the Palms' pool below you. Though the view is thrilling and maybe a little terrifying at first, even if you keep your eyes forward you will be able to experience something that very few nightclubs offer.
For reservations to any of these fine establishments, contact us here at Vegas VIP today!