Marquee Dayclub
Cabana Rentals & Bottle Service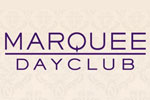 Location:

Marquee Las Vegas

Open:

Daily from 11 a.m. - 6 p.m.

Music:

House, hip-hop, Top 40, mash-ups.

Attire:

Trendy poo attire.

Seating:

Infinity cabanas, Lounge chairs or daybeds.

Marquee Dayclub VIP Packages
Life is a Beach

What's included:

Call 1.800.VEGASVIPfor exclusive pricing

BOOK / Inquire

24 Hour Party

What's included:

Limo transportation
VIP entry to pool party
Reserved pool cabana/daybed at your choice of TAO Beach, Marquee Dayclub, Drai's Beach Club, Wet Republic, Encore Beach, Daylight, Bare or Liquid Pools
Limo transfer to your choice of Restaurant
All inclusive set menu dining
Limo transfer to nightclub
VIP bottle service at the top nightclub
Limo transfer to strip club
VIP entry to after hours party

Call 1.800.VEGASVIPfor exclusive pricing

BOOK / Inquire
Marquee Dayclub November, December 2022 Events Calendar
Marquee Dayclub Las Vegas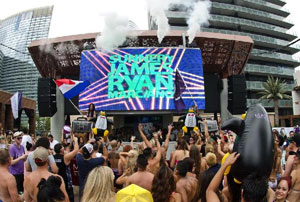 The Cosmopolitan at City Center has turned into THE place to be in Las Vegas! This unique hotel has the hottest night club, Marquee, and one of the greatest restaurants on the Strip, STK. So what would a hot place like this be without a great way to cool down? The Marquee Dayclub Pool is just that.
This is 22,000 sq. feet of waterlogged, adult craziness floating 8 floors above the Las Vegas Strip. Created by the same people who made Tao such a success, they have brought an unparalleled experience to the Las Vegas pool party scene. DJs keep everyone moving to the latest beats while the pool scene attracts some of the most beautiful and hippest people in Las Vegas. Redwood accents are all around with an amazing waterfall just a few feet away to help you cool down.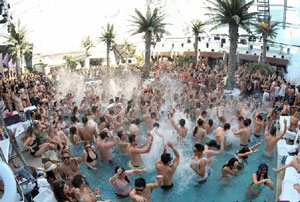 As the smell of coconut tanning lotion fills the air, many of the pool party goers will settle onto the inviting daybeds seen dotting the poolside. This is the most affordable way to enjoy these aquatic surroundings and still be treated like Neptune. Private Grand Cabanas border the Marquee Dayclub. Each of the luxurious cabanas has its own big screen TV, Jacuzzi, ceiling fans, refrigerator and a spectacular view of City Center and the Strip. Plus, every cabana comes with air conditioning, so you can be hot and cool at the same time!
With some of the best looking pool party waitresses providing the ultimate in bottle service treatment in Las Vegas, this is a fantastic way to spend a Las Vegas summer day. Need more? Is JUST a Cabana not enough for you? How about 3 story Bungalow Lofts? These come complete with a Party Deck on the top floor, a cabana when you want to use the pools and even a living area when you finally need to crash!
These are meant for large groups but you have that, right? Everything about The Marquee Dayclub pool makes it THE hottest place in Las Vegas to cool down. Call us today to reserve your spot.