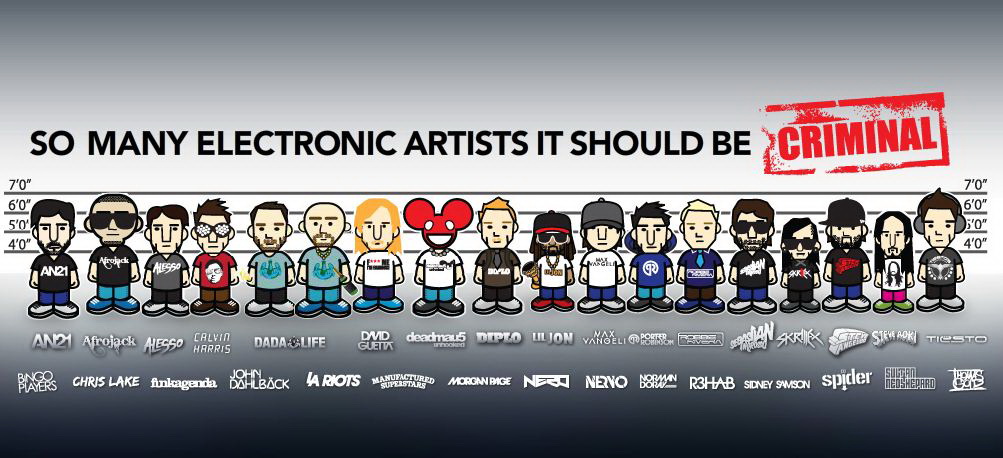 A party in Vegas without any music is nothing more than a crowded mess of people sipping on fruity beverages and making awkward conversation. Nightclubs were made with their sole purpose being to act as a space where locals and tourists alike can spend their evening partying either by themselves or with other patrons. What is essential to a Las Vegas nightclub is the music; and while it may seem like a viable option to just play an endless string of music from an MP3 player, these establishments are keen on the fact that it's the energy brought by the night's DJ that truly kicks off the energy of the party. Without its slew of highly professional DJ's, Las Vegas' nightclubs would wind up just being glorified lounges.
Las Vegas is nothing without its continuous string of music, so a big thanks should go out to the numerous DJs that spend their nights working for your entertainment. Each nightclub houses its own resident DJ, but there are some that are well known throughout the city and can be considered more along the lines of "celebrity" status. Of the more celebrity-like DJs are deadmau5 and Lil Jon. Featured frequently at the MTV Music Awards and known worldwide from Las Vegas to Berlin, deadmau5 is an icon of the DJ industry and well deserves the standing ovation he typically receives. Lil Jon, known mostly for his part within the East Side Boyz earlier in his career, can be found at Las Vegas' premier nightclub, XS, at the Encore but has also been known to make appearances at clubs like Tryst.
Of course, the list doesn't stop with just those two. Calvin Harris, Alesso, Diplo, Tiesto, and Skrillex have all been known to turn Las Vegas inside out and make the party scene not one easily forgotten. With weekly events and the appropriate holiday party, there are plenty of opportunities for these high-energy music spinners to show tourists to Las Vegas how the city really parties.
These excelling artists are not just featured at nightclubs, either. Day Clubs and resort pool parties need to have somebody around to keep the party alive, and simply hooking up a stereo to the pool area's speakers will do little to get the party going. Witness great artists like Steve Aoki, Dada Life, Afrojack, and Max Vangeli as they heat up the party to a point where guests must step into the pool to cool off. It takes an individual with dedication to keep a party going when the weather hits 100 degrees, and these men are beyond dedicated.
You won't find a party anywhere else like you do in Las Vegas, and a good portion of that credit must go to the magic fingertips attached to these skilled artists. While some may think being a DJ these days simply means pressing play on an iPod, an evening with these individuals will show you that, like any other form of entertainment, being a DJ is an art form.
By "Dan Nunes"