Las Vegas Male Revues
The ultimate ladies night out in Las Vegas begins with a male revue show. Whether you're heading out for a relaxing night of fun or celebrating a major event like a bachelorette party, you won't be disappointed when you spend an evening with a group of physically perfect male dancers. In Las Vegas, there is a number of amazing male revue shows designed to bring all of your intimate fantasies to life. Here's a look at some of the best male revue shows to see while in Vegas.
1. Chippendales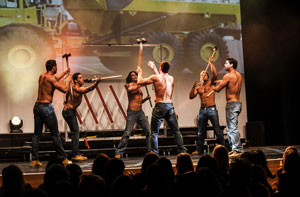 Chippendales is no doubt one of the most recognized male revue shows. The 75-minute show features 12 charming men that make it their mission to get the women in the audience on the edge of their seats. Each act brings something different to the table, ranging from studs in fireman costumes to guys dressed like sailors. The acts also include plenty of dancing, singing, and audience interaction. The Chippendales perform nightly at the RIO All-Suite Hotel and Casino.
Featured VIP Packages for Girls
Hen Night

What's included:

Call 1.800.VEGASVIPfor exclusive pricing

BOOK / Inquire

Hot Chicks

What's included:

Limo transportation
Pole Dancing class (during the day)
VIP entry and seating at the Thunder from Down Under Show
VIP entry to Chateau Nightclub

Call 1.800.VEGASVIPfor exclusive pricing

BOOK / Inquire

Last Supper

What's included:

Limo transportation
Firefly dinner, 2 hour open menu & open bar
VIP entry and seating at the Men of Sapphires Show
VIP entry to Light Nightclub

Call 1.800.VEGASVIPfor exclusive pricing

BOOK / Inquire
2. Magic Mike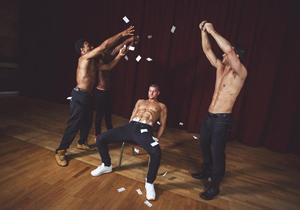 Although Magic Mike is a newcomer to the Las Vegas scene, it has seen incredible success. Based on the Magic Milk films released in 2012 and 2015, the male revue show located at the Hard Rock Hotel in Vegas essentially recreates the cabaret nightclub Club Domina. Magic Mike is made up of 13 talented men who offer a 360 degree performance of dance and acrobatic strip teases. The Magic Mike male revue show was conceived by star of the Magic Mike franchise Channing Tatum, along with the films' choreographer Alison Faulk.
3. Thunder from Down Under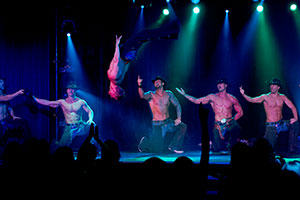 Head to the Excalibur Hotel any night of the week and see the guys from Thunder from Down Under. The Australian male revue show features a group of chiseled men with sexy accents who play a variety of roles designed to strum your heart strings. From Spartan from the film "300" to captain Jack Sparrow from "Pirates of the Caribbean", you'll be engrossed every minute of the 75 minute show.
4. Men of Sapphire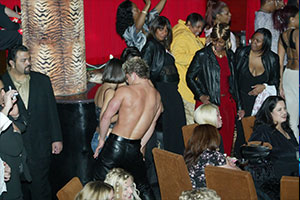 There's no better way to spice up an average party then with an evening spent with the Men of Sapphire. This professionally choreographed male revue show features sensual performances, dance routines, and private lap dances. The high energy show is performed every Friday and Saturday at the Sapphire Gentlemen's Club in Las Vegas. Stop by to see sexy men dressed up like cowboys, marines, construction workers, or all-around bad boys.
5. Kings of Hustler
If you're looking for the best place to host a bachelor party, then you need Kings of Hustler. Across the massive stage you'll find a group of half-naked men performing dance routines unlike any you've seen before. The male revue can be found on the third floor of the Larry Flynt Hustler Club and features a talented DJ, full bar, and MC. In addition to a main room, you'll also find an outdoor patio with fireplaces, as well as 15 Hustler Honey Suites where you can receive a private lap dance.
6. Black Magic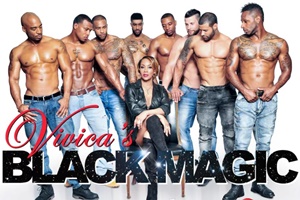 Black Magic Live is one of the hottest shows to come to Las Vegas in a while. The all-black male revue show is based on "Vivica's Black Magic" from the Lifetime Channel and features 60 minutes of full-scale entertainment.
7. Aussie Heat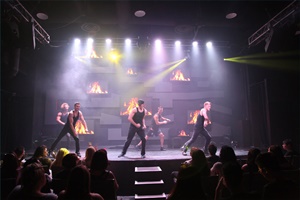 Inside The V Theater at Planet Hollywood is an Australian male revue show that offers an incredible interactive adult experience. Aussie Heat has been featured in their home country on hit TV shows like "Australia's Got Talent" and "So You Think You Can Dance Australia." Now you can see them up close and personal as they perform their sexy dance routines every night of the week, except Mondays and Wednesdays.