Jemaa NoMad Pool
& Bottle Service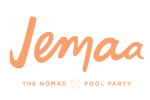 Location:

Park MGM Hotel & Casino

Open:

Friday, Saturday and Sunday: 11 a.m. to 6 p.m.

Music:

Hip-hop, top 40, and '80s.

Attire:

Beach Attire
Jemaa NoMad Pool VIP Packages
Life is a Beach

What's included:

Call 1.800.VEGASVIPfor exclusive pricing

BOOK / Inquire

24 Hour Party

What's included:

Limo transportation
VIP entry to pool party
Reserved pool cabana/daybed at your choice of TAO Beach, Marquee Dayclub, Drai's Beach Club, Wet Republic, Encore Beach, Daylight, Bare or Liquid Pools
Limo transfer to your choice of Restaurant
All inclusive set menu dining
Limo transfer to nightclub
VIP bottle service at the top nightclub
Limo transfer to strip club
VIP entry to after hours party

Call 1.800.VEGASVIPfor exclusive pricing

BOOK / Inquire
Jemaa NoMad Pool October, November 2023 Events Calendar
Jemaa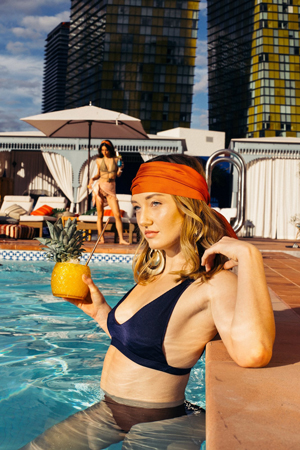 Situated at the recently remodeled Park MGM Hotel & Casino on the former site of the Monte Carlo Resort is one of Las Vegas' newest pool party destinations. Jemaa is an adults-only pool party destination only open during the summer season. Compared to other pool party venues in Vegas, Jemaa is relatively small; however, what it lacks in square footage it makes up for in quality services.
Jemaa and the NoMad Pool in Las Vegas are essentially one in the same. However, while NoMad Pool is open every day of the week, the most sophisticated and refined Jemaa pool party event only runs on Fridays, Saturdays, and Sundays. When the NoMad Pool transforms to Jemaa, it creates an energetic and seductive daytime pool experience that gives the 21 and over crowd a relaxing outlet from life's daily stressors.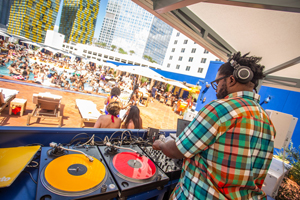 The Jemaa pool party is well-known for its incredible table services and impressive roster of A-list DJs and musicians. The pool event also boasts incredible views up on the third-floor roof deck of the boutique hotel. A visit to Jemaa means plenty of opportunities for guests to drink, dance, and socialize. The tranquil pool environment is also coupled with premium dining options, including a Poolside Café that serves casual fare and handcrafted cocktails.
Jemaa's music and entertainment scene reflects the venue's upscale design. The pool party event typically plays tropical house music but the tunes can vary depending on the day and artist. In addition to leading DJs, the venue commonly hosts live musicians, including saxophonists and violinists.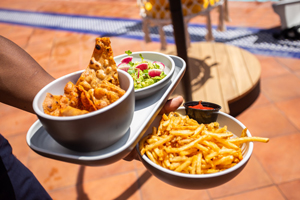 The backdrop of Jemaa is also awe-inspiring. The landscape features the amazing City Center complex, Veer Towers, Aria Hotel & Casino, and the Waldorf Astoria Hotel. Guests can grab a lounger or daybed at Jemaa on any summer weekend and eat a tasty brunch while taking in the incredible scenes.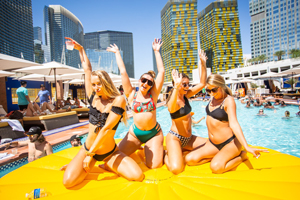 The overall design of the pool area at Jemaa was developed by Jacques Garcia, who was further inspired by the Majorelle Gardens of Morocco. These inspirations can be seen in the remarkable blue tiles, modern plush furnishings, and sophisticated mix of daybeds and cabanas.
The dress code at Jemaa is more relaxed than some other leading pool party destinations in Las Vegas. Of course, pool attire is recommended for all guests; however, girls can choose to wear sundresses or gowns if they choose. Avoid certain types of non-pool-related clothing, such as baggy clothing, ripped or cut-off clothing, cargo shorts, undergarments, jerseys, khaki shorts, pants, athletic wear, or clothing with chains or studs. Cover-ups are required for women with bikinis or swimsuits while going to and from the pool.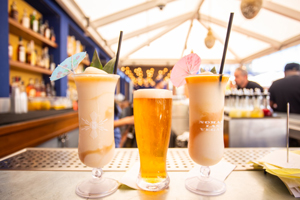 If you are planning a visit to Jemaa, you may want to consider splurging on bottle service. If you are partying with a group of friends, bottle service can certainly be worth the cost. With bottle service, you receive a full-service waitress and busser who will continue to pour you and your friends drinks throughout the day. Your busser will ensure that your table remains tidy by removing empty bottles and glasses. With bottle service, you don't have to worry about making trips back and forth to the bar. Just sit at your private table, socialize, dance and relax.
No Las Vegas pool party experience is complete without spending a few hours in a luxury bungalow or cabana. There are only a couple Grand Cabanas at Jemaa Pool, which can accommodate between 15 and 20 people. Party cabanas are also available for between 10 and 15 people but do not have a shared pool like the Grand Cabana. Daybeds and party couches are also available for those who want their own space to relax away from the crowds.