So You Can Do More With Vegas VIP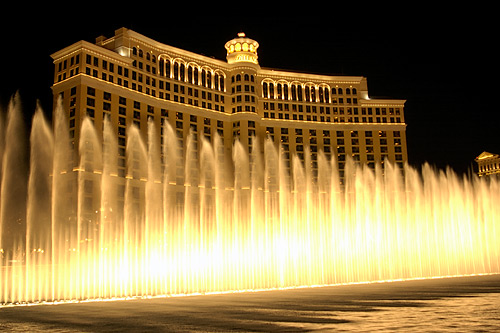 Despite what you hear, the Las Vegas Strip doesn't have to be an expensive venture. Sure, a bottle of water may run you upwards of $3.50 and a dinner for two even at a little food court could put you out over $20, but there are ways to enjoy Sin City and be a tourist without breaking your bank. Though Vegas' main attractions cost money, you want to save planning for those when you deal with us; we'll get you great deals. This isn't about getting great deals, though. This is about being able to keep your wallet closed; this is your top 5 free things to do on the Las Vegas Strip – so you can save that money and party with us after!
The Fountains of Bellagio
They were featured in Ocean's Eleven and are still going strong today. This large water feature rests right outside the main doors of the Bellagio Resort and Casino and mere feet from the busy streets of Las Vegas Blvd. Running every half hour from 3:00 p.m. to 7:00 p.m. during the week (12:00 p.m. to 7:00 p.m. on weekends), this mesmerizing fountain entices viewers with its expertly timed bursts, all set to a variety of tunes that range anywhere from Celine Dion to something a little more classical. Just because you may have seen it once doesn't mean you have seen it at its best. The fountains happen to be one of the few dynamic Strip attractions, dancing to a different choreography for each tune.
The Mirage Volcano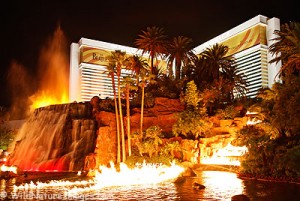 Set right in front of the gorgeous Mirage Resort is a large, peaceful mountainous display that beckons photographs from all passersby, but there's something deep within this serene, picturesque setting that fights all day to get out, and at 7:00 p.m., it finally gets its chance. Erupting every hour nightly on the Las Vegas Strip is Sin City's most dangerously beautiful free attraction – the Mirage Volcano. This violent showcase spits fireballs high into the air as a rhythmic tribal chant beats on. Onlookers can feel the eat as the fireballs grow and the volcano gets angrier and angrier. In the end, everyone will be left with a greater appreciation for the potential power that Mother Nature has.
Sirens of Treasure Island
Who says you have to pay for sex? Well, okay, let's rephrase that. Who says you have to pay to see someone sexy? We can tell you that Treasure Island in Las Vegas certainly has never said that, which is why it presents, Strip-side, a show filled with tantalizing vixens and renegade pirates. The Sirens of Treasure Island premiers every hour and a half, starting at 7:00 p.m., and is one of the few free attractions on the Strip that features live performers. Watch in awe and wonder as gorgeous sirens engage pirates in a dance off of West Side Story proportions. This near 20-minute long production features fire, sexy ladies, and hunky men – what more could you want for free?
Mirage Atrium and Bellagio Conservatory
You don't expect to see much greenery when you come to Las Vegas, but you might be mighty surprised when you step inside both the Mirage and Bellagio hotels. You wouldn't expect it, but both of these locations are home to two very natural displays that showcase a range of greenery and flowers. At the Mirage Atrium, you can experience the rainforest without the perils that usually come with such an adventure. Beneath a 100-foot dome rests a tropical environment, complete with waterfall and towering palm trees.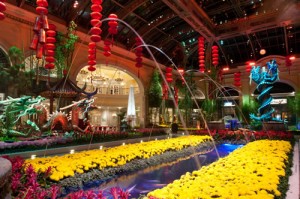 The Bellagio's Conservatory offers something more akin to a greenhouse, with gorgeous flowers that thrive in a self sustaining environment. Watch as caterpillars bloom into butterflies in a separate enclosure or simply snap some pictures of whatever seasonal display the conservatory is decked out in. The colorful display will suck you in and keep your eyes entertained for longer than you'd imagine.
So, there you go. Five methods to keep yourself entertained without dipping into your wallet. Now that those are out of the way and you've saved a couple of night's worth of tourism, isn't it about time you gave us a call to book that night out on the town? Don't worry, we'll make what you saved stretch…