Stadium Swim
& Bottle Service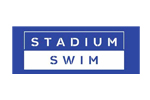 Location:

8 Fremont Street Experience, Las Vegas, NV 89101.

Open:

Monday – Friday: 9AM – 9PM & Saturday & Sunday: 8AM – 9PM

Music:

Open Format and EDM

Attire:

Beach Attire
Stadium Swim VIP Packages
Life is a Beach

What's included:

Call 1.800.VEGASVIPfor exclusive pricing

BOOK / Inquire

24 Hour Party

What's included:

Limo transportation
VIP entry to pool party
Reserved pool cabana/daybed at your choice of TAO Beach, Marquee Dayclub, Drai's Beach Club, Wet Republic, Encore Beach, Daylight, Bare or Liquid Pools
Limo transfer to your choice of Restaurant
All inclusive set menu dining
Limo transfer to nightclub
VIP bottle service at the top nightclub
Limo transfer to strip club
VIP entry to after hours party

Call 1.800.VEGASVIPfor exclusive pricing

BOOK / Inquire
Stadium Swim December, January 2024 Events Calendar
Stadium Swim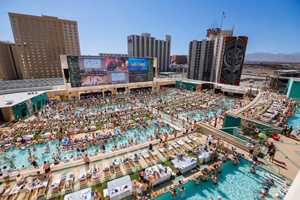 If you're in search of a truly unique pool party experience, you'll want to spend a weekend at Stadium Swim in Las Vegas. Stadium Swim offers six well-designed pools spread out over three levels, giving guests on all levels a direct view of the massive 40-foot tall high-definition screen.
From the Insta-ready selfie walls to the swim-up bars, there's plenty to love at Stadium Swim. However, one of the biggest perks is their year-round devotion to their customers. While other Las Vegas pool venues close during the winter months, Stadium Swim remains open 365 days a year.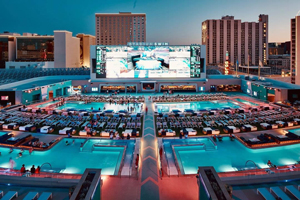 This arena-sized oasis in the Vegas desert overlooks the incredible Fremont Street Experience. The pool party destination is set on a rooftop and broadcasts some of the biggest sporting events. Around the pool, guests will find more than 370 chairs, as well as prime real estate in the form of daybeds, cabanas, and lily pads which are available to reserve. Of course, there really is no "bad" place to hang out at Stadium Swim.
The concept of Stadium Swim really speaks to sports fans. The venue is essentially a sportsbook with an oversized screen, stadium-style seating, and multiple swimming pools where sports fans can cool off when the weather gets hot. While sports fans are naturally attracted to this pool party destination, anyone who loves to party in a pool environment are welcome to attend and enjoy the ambience.
Food and drink are plentiful at Stadium Swim. The venue offers more than your standard poolside fare with more elevated bites like gourmet grazing boards, lobster corndogs with yozu dipping sauce, and Impossible sliders. If you review the drink menu, you'll discover even more great options, from cases of beer to a magnum of Don Julio 1942. Guests will also find other favorites, such as energy drinks and frozen cocktails.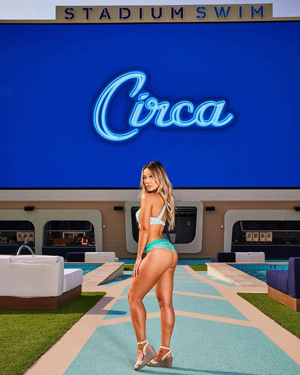 Of course, it wouldn't be a pool party without the right music. Dance music blasts throughout the day and evening, putting guests in the mood to relax or dance. Since Circa is an adults-only resort, you won't have to worry about kids running underfoot. Stadium Swim is all about having some grown-up fun.
In addition to the 143-foot video screen that can be seen from nearly any area of the rooftop venue, there is other entertainment to enjoy. Outdoor gaming is available for guests who don't want to miss a second of the action. Music from the resident DJ is played over a cutting-edge sound system to ensure crystal clear listening. You also don't want to forget about the Insta-ready selfie wall where you and friends can snap photos late into the evening.
The cover charge at Stadium Swim is fairly reasonable at just $20; however, this can change based on demand. The crowd will depend on what day you decide to attend. Fridays, Saturdays, and Sundays draw in the biggest crowds, but Stadium Swim tends to be fairly busy every day. If you're really excited about going to Stadium Swim, you'll want to make reservations ahead of time.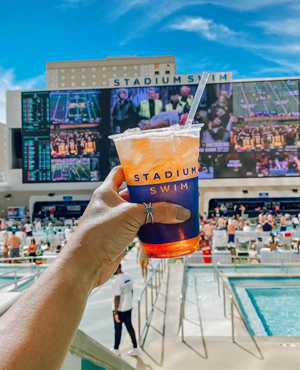 Table service is recommended to guests who want to have a true VIP experience. With table service, you'll be greeted by your own VIP hosts upon your arrival. Your VIP host will then escort you to your table, meaning you won't have to wait in a long line. Table serving pricing varies based on demand but bottles generally start around $450. You'll also want to consider where you want to enjoy your bottle service. Cabanas are always a great way to go; however, if you have a smaller group, you may want to consider daybed which is just as cozy.