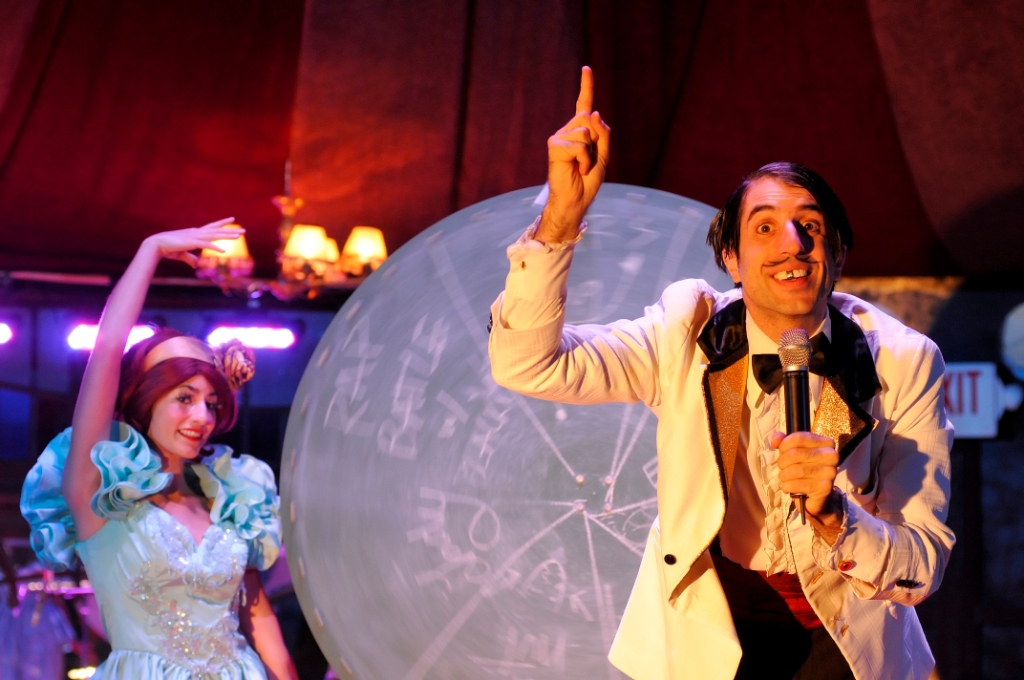 Las Vegas is known for its entertainment, but sometimes certain things are too big for certain people. Below, we here at Vegas VIP present to you a means to an end for those mass productions that simply don't have that intimate value. These are the top 10 smaller productions in Las Vegas!
Absinthe
Location: Caesar's Palace
Child Friendly: NO
It may take place in a giant tent, but that is just the start of the mystery of Absinthe. As the host of the hour, The Gazillionaire, makes known right from the start, this is no show for kids. Through a slew of obscenities and offbeat comments, Absinthe's host introduces a wide range of acts, making this the most unique variety show on the Strip. Set up almost like a back road's circus, Absinthe puts the audience at the mercy of the rather off-putting Gazillionaire through a show that tantalizes with a sexy burlesque strip tease only to follow up and amaze with a death defying tight rope act roller skating routine. All of these acts and more round out into the perfect variety show, kissed ever so gently with something that stretches beyond the typical Las Vegas flair.
V – The Ultimate Variety Show
Location: Planet Hollywood's V Theater
Child Friendly: YES
V – The Ultimate Variety Show is a Las Vegas show through and through Complete with the glitz and glam that one would expect from Sin City, V also delivers an impressive selection of acts that somehow turn the Planet Hollywood's V Theater into a grand stage. Though the acts change as the show's tenure wears on, guests can expect to be amazed by unusual musical talents, miniature magic acts, and a skating routine that may make your heart stop altogether. The entire show is one giant collaboration of talent and is a great alternative to those large stage productions. You may not get impressive lighting displays or massive interchanging stages, but you will get quality entertainment in a moderate space.
The 80's Show
Location: Planet Hollywood's V2 Theater
Child Friendly: YES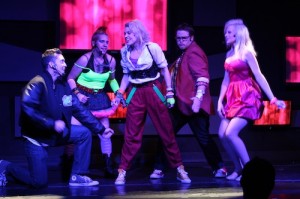 There's something to be said about a successful period show, as it's not always the easiest thing to pull the audience in. The 80's Show, performed at the much smaller V2 Theater in Planet Hollywood's Miracle Mile Shops, does so quite literally. Rather than force the paying guests to sit through a diatribe about the 1980's, love, and friendship, The 80's Show drags audience members on stage to keep the experience fresh and lively. Through a set list of favorite 80's tunes like "Girls Just Wanna Have Fun", "Video Killed the Radio Star", "Addicted to Love", and "Take on Me", The 80's Show gives the audience something to really dive into. Due to its smaller sized audience, this smaller performance is far more personal than shows like Cirque du Soleil and Blue Man Group, making it the perfect addition to any lively party on the town.
Recycled Percussion
Location: The Showroom at The Quad
Child Friendly: NO
What do you get when you throw together the third place winners from 2009's Americas Got Talent, everyday items being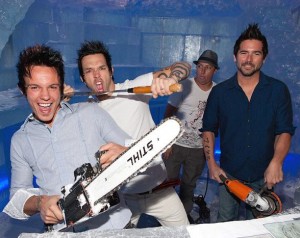 used unconventionally, and music? You get Recycled Percussion, or The Quad's answer to Blue Man Group. Recycled Percussion puts to use everyday items like ladders and a van to create a musical experience unlike anything else. What's best about Recycled Percussion is that guests are encouraged to bang along, as during entry they receive drum sticks and an instrument to play along with. By the end of the show, the Showroom erupts into a cacophony of sounds and music as the audience gets completely sucked in to the athletic performance on stage. The musicians of Recycled Percussion, Justin Spencer, Ryan Vezina, Matt Bowman, and Todd Griffin, know how to entertain the crowd with a mix of musical and athletic prowess as they do whatever they can in their power to bring to life their own spin on music.
Evil Dead the Musical
Location: Planet Hollywood's V Theater
Child Friendly: NO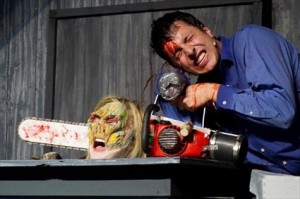 Combining elements of horror, campy humor, and blood, Evil Dead the Musical really sets the bar high for small-box theater. Pulling scenes and dialogue from all three Evil Dead movies, Evil Dead the Musical presents a mish-mosh of plots and characters that explodes into a laugh riot. Watch as mild mannered Ashley "Ash" Williams transforms from mild mannered housewares employee to one handed badass with a chainsaw. Evil Dead the Musical offers VIP seating, but for a small extra charge, will bump you up to Splatter Zone seating, where you will find yourself a part of the show's mayhem. Receive a white T-Shirt and watch it go from stark white to blood red as the show goes on and the human cast starts to dwindle. Featuring zany, albeit catchy, musical numbers, Evil Dead the Musical is not a show easy to forget.
Marc Savard
Location: Planet Hollywood's V Theater
Child Friendly: NO
Don't believe in hypnotism? Then you need to go see Marc Savard at Planet Hollywood's V Theater. Though the show starts off tame, with Savard showing off his power's of persuasion and hypnosis in ways that may leave you thinking you're watching a rigged show, as the performance goes on, the volunteer audience members perform acts that no self respecting person would do if not under the influence of hypnosis. As the volunteers fall deeper and deeper into Savard's "spell", they find themselves partaking in outrageous acts that include blow-up dolls and suggestively shaped lollipops. As if that weren't bad enough, Savard
Legends in Concert
Location: The Quad
Child Friendly: YES
Many of us have not had the good fortune of seeing performers like Michael Jackson or Elvis Presley perform in front of a live audience. To rectify this, Legends in Concert puts Hollywood impersonators in the spotlight and delivers a show that, if no one knew any better, could pass for an authentic collaboration of musical greats. Impersonators take on the rolls of Legends like Garth Brooks, Tina Turner, The Blues Brothers, Neil Diamond, Elvis Presley, and Michael Jackson and take the stage to perform spot on renditions of the music industries most well known songs. Though you go in knowing you're not seeing the real performer, it's near impossible to not find yourself sucked into the experience so much that you forget that you're watching an impersonator.
VEGAS! the Show
Location: Saxe Theater
Child Friendly: YES
What comes to mind when you think of what a show about Las Vegas could be about? Flashy showgirls, bright lights,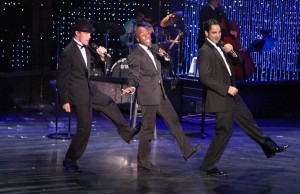 and world renowned entertainment are probably a few of the things that pop in there – and VEGAS! The Show agrees with your thought process. Set up to send the audience into the past, when Las Vegas was known for more than being a frat boy and sorority girl hangout. When the Rat Pack and Elvis Presley owned the stage and the term showgirl wasn't synonymous with stripper. VEGAS! The Show brings back the Vegas heydays by transporting the audience back in time with acts that pay tribute to Sammy Davis Jr., Sonny and Cher, Elvis Presley, and Elton John. With an ever-changing stage, the scene goes from one impressive display to the next, providing the audience with visual treats and spectacles throughout the show. If you're looking to experience old Las Vegas, VEGAS! The Show is your ticket back in time.
Men of Sapphire
Location: Sapphire Strip Club
Child Friendly: NO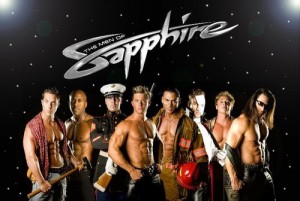 Adult shows tend to be pretty standard fair, offering hot men and their oiled up bodies stripping down to near nothing (or entirely nothing) to typical stripper music. Men of Sapphire is a little different, though; instilling that classy, upscale element of the Sapphire Strip Club into its performance. Rather than just be this drab performance where men thrust their pelvises towards their audience, the men of Men of Sapphire are energetic and interactive with their audience. After the opening number, each man of Sapphire takes the stage to portray some form of female fantasy, ranging from the uniformed soldier to a fireman. Prior to the show, guests can write down a name and hand it to the DJ for a chance at getting a friend (or themselves) on stage with these hunky men.
The Mentalist
Location: Planet Hollywood's V Theater
Child Friendly: YES
Las Vegas is one big city of mind games. From giving people the false hope of winning big to making everybody feel like they're instantly apart of this grand community, stepping into Las Vegas can be considered almost hypnotizing. Topping off these mind games is Gerry McCambridge, a renowned mentalist. During his act, McCambridge finds his way through the human brain to predict outcomes of random situations throughout the show and read the minds of his audience members. As the audience is always changing, so too is the mentalist's act. Each show offers a new experience and McCambridge is always ready for the challenge of entertaining his audience in new and interesting ways.