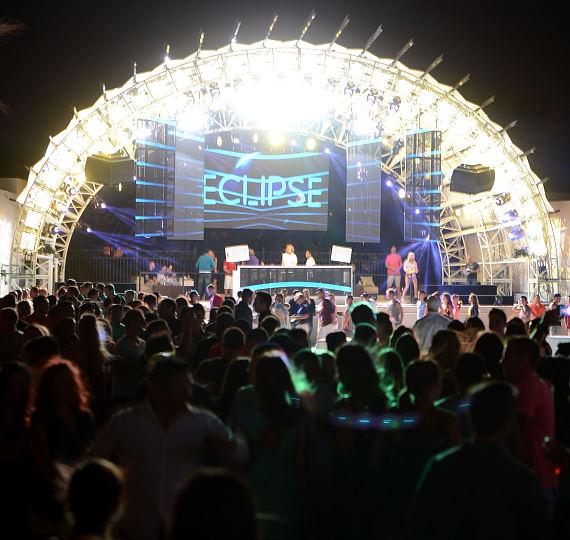 After Daylight, the night falls, turning the Las Vegas Strip into an abundance of parties. From the Stratosphere right on down to the Luxor, the parties are plentiful, taking place in some well known nightclubs. There is a new party on the Strip; one that threatens to draw the attention from legacy nightclubs like TAO. This isn't your typical indoor bash, complete with its stuffy atmosphere and all-too-loud music. This energetic party is Eclipse, an extension of Mandalay Bay's popular pool party and dayclub, Daylight.
Party Beneath the Stars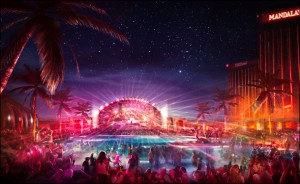 As the day wears down into night and the moon brightens Las Vegas' clear sky, Mandalay Bay's Daylight transforms into the nighttime party, Eclipse. Just as the night sky fills with bright little stars, Eclipse fills Daylight with an energy unlike any before. Eclipse brings the nightclub scene out of the interior and places it poolside, where guests can get the most out of their night.
Everything you could expect out of a dayclub and a nightclub are right at your disposal. Want to take a dip in the pool to escape the warm air? Eclipse will let you. Want to dance the night away to the tune of your favorite DJs? Eclipse will let you. Want to tuck yourself away into a private cabana or bungalow? Well, you get the idea by now.
Like any club on the Strip, Eclipse comes with its own expertly trained mixologists. Enjoy an arrangement of mixed beverages or bottled liquors as you party down with your fellow guests or random strangers!
Not Your Average Nightclub
… and that's because Eclipse is far more then just a nightclub. Nightclubs are stuck indoors, breathing in the same stale air and suffering from loud booming music. Eclipse is an experience all its own where the air is fresh and the music drifts out into the night air. While you will be surrounded by upwards of 5,000 people, you won't feel like you're crowded as everywhere you look, you will see the desert sky.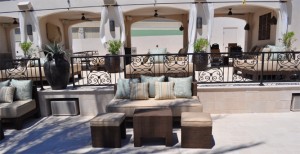 Where nightclubs typically offer VIP tables and bottle service, Eclipse offers completely privatized areas to escape to. Cabanas and bungalows provide miniature escapes while also tacking on the extra features. Want your own private bathroom and pool and a kick-ass view of the party? Then you'll want to look into one of the two bungalow rentals available. Want a small secluded area to call your own, complete with comfortable seating and entertainment? Then your eyes should be looking at the array of cabanas.
Regardless of where you take your party, there's no way you will be stuck having a dull time. Eclipse is the ultimate party on the Strip.
Reserve Now…
… or don't expect to get in! People love to party on the Strip, so any nightclub or dayclub is going to come with its own crowd. Eclipse is no exception. Whether you want to simply guarantee yourself entry or you want to secure yourself a cabana or bungalow, the best thing you can do is reserve your night. The party won't wait for you, so don't wait for the party!
Contact Vegas VIP today to make sure you secure yourself a spot. Reservations fill up quick, so call now!
Seriously… you're still here? Go! Get moving! The party is starting without you!