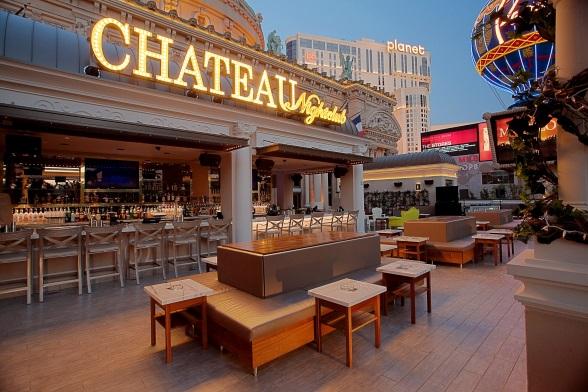 Las Vegas is gorgeous – everything about it. From the consistently beautiful weather to the way the city glows at nightfall. No matter how you look at it, the Strip is one of the prettiest sights you will ever behold in a city; so why would you want to spend your evening in an enclosed room where the beauty is hidden from you? We can't assume you want to, you just don't know how to party and still get a view of the Strip. Lucky for you and your cohorts, there are plenty of places you can take the party to that will provide the same entertainment you'd expect from a nightclub while still giving you that unbeatable view of the Las Vegas Strip.
Here is a list of top 5 nightclubs with outdoor spaces…
Ghostbar (The Palms)
No, you won't find yourself amidst a sea of spectral partiers here at Ghostbar, but you will be able to enjoy yourself in the crisp desert air. After the sun falls, there's no better feeling than a desert breeze across your skin. At Ghostbar, when things get a little too heated or too crowded inside, you can step outside to catch a breath of fresh air.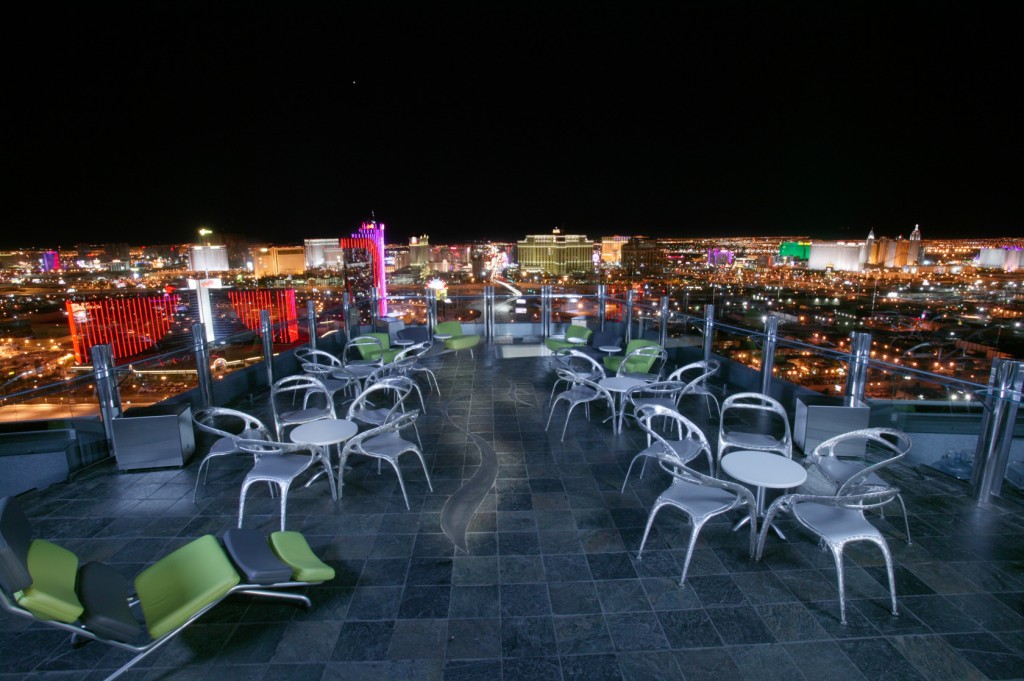 Sure, it may not be the largest space for you to escape onto, but Ghostbar's outdoor balcony is more than enough space. Grab a drink, step outside, and simply drink on the sites of the Las Vegas Valley surrounding you. In the near distance, you will have an amazing view of the Strip, with establishments like Caesar's Palace, The Mirage, and Treasure Island completing your view. If you're not afraid of heights, you can even turn your view to right beneath you, where you'll be greeted by a glass floor and the Palms Pool far below.
There's no doubt that Ghostbar isn't amongst the most well known establishments on the Strip, which may actually work in your favor. Regardless, this upper-floor establishment has no problem providing entertainment – and a space to escape to.
VooDoo (Rio)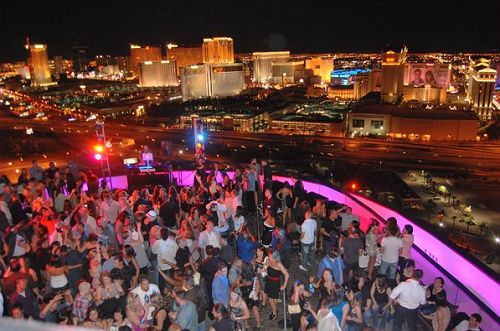 There's no doubt that whenever someone talks about an outdoor nightclub that this off-the-Strip establishment is going to come up. Set on the 51st floor of the Rio Resort and Hotel, VooDoo provides the pinnacle of outdoor nightlife entertainment, though the inner space leaves plenty to be desires.
People don't climb 51 floors in an elevator ride that makes some queasy to stay inside, though. Once you step off the elevator, you are going to make a beeline for the exit to the rooftop. On this somewhat large space, you will find yourself faced with the most magnificent view in Las Vegas. With no walls barring your sight lines, you will have a near 360 degree, panoramic look at the Las Vegas Valley, the Las Vegas Strip, and the outlying mountain ranges. Bring a camera – this is one look of Vegas that you won't want to forget.
Looking past the view, VooDoo offers the same fun and excitement as any other nightclub. A DJ kicks the party off while an accompanying bar helps to loosen things up. With the party taking place in the open air, you won't have to worry about the reverberating bass giving you a headache as the night wears on. Everything just sort of dissipates into the valley.
Afraid of heights? Don't pass up this experience. VooDoo is coupled with its own steakhouse which offers a similar view of Vegas – just with windows between you and the ground.
Vanity (Hard Rock)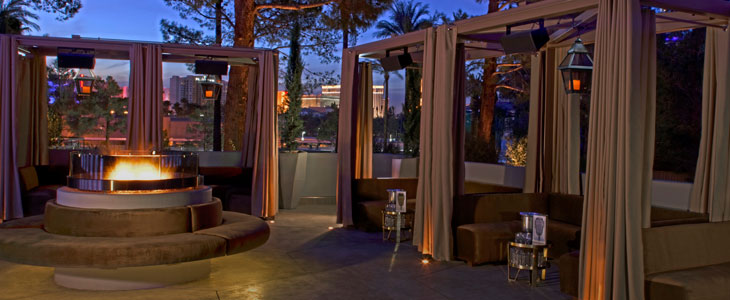 At Vanity, it's all about you – which is great, because you can decide where you want to party, when you want to. This Hard Rock establishment has a fantastic interior with a hard-to-miss chandelier decorated in thousands of LED lights. If you can pry your eyes away from this centerpiece, you can make your way to the outdoor area. Before you step outside, though, be sure to hop atop one of the elevated platforms to get everyone's eyes on you.
In this space, you and your friends can gather around a large fire – a staple on those chilly Las Vegas nights. If you're traveling light, you can look into renting one of the few cabanas, where you're bound to have the eyes of everyone fall upon you. In your private area, you can feel like a king or queen as the nightclub's other patrons grow green with envy of your luxurious space.
Chateau (The Paris)
It isn't often that you will travel to the middle of the desert to get a taste of Paris, but on those occasions you do, you want to get the most out of your experience. Right beside the Paris Hotel and Resort is Chateau, a nightclub that, arguably, is the best at capturing the true essence of its source material.
Taking after the hotel it is attached to, Chateau encompasses that "Paris" feel, mostly through its outdoor space – the Chateau Gardens. This patio-like area is an extension of the classic nightclub, complete with its own DJ and bar. Atop this patio area, you will be treated to an assortment of authentic plant life and an astonishing view of the Strip.
Since you're not numerous stories above the road, you can still partake in a little people watching when the music does nothing for you. More-so, right across the street are the Fountains of Bellagio, a staple of Vegas that are continuously entertaining to watch. Though the music may be drowned out by the company you keep, you will still get that majestic feel from watching the towering dancing fountains.
Chateau's interior, albeit not as open as its outdoor space, is spacious and houses a 10-foot tall fireplace that is good for a photo-op or two.
XS (Wynn)
Part of the appeal of XS is the attention to detail put into the interior decor, but you've far from come to the most opulent venue on the Strip to ogle the furnishings. You came to party, and XS is bound to deliver on the entertainment.
XS is made up of a 13,000-square foot interior which is accompanied by an outdoor space nearly double the size. During the day, this exterior is a pool area for hotel guests; but at night, it opens up to the nightclub's customers and provides for 26 cabanas available to those springing for bottle service.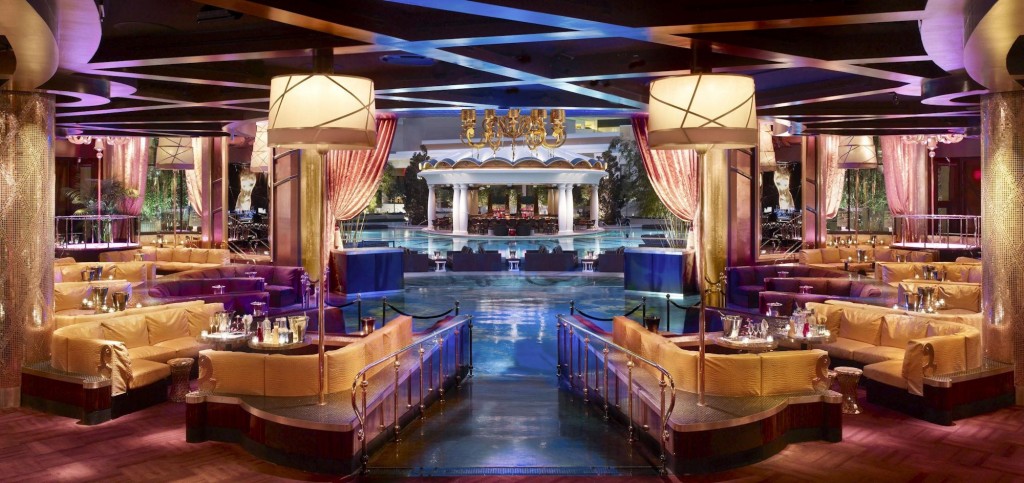 The pool is closed during the off season, but when summer rolls around, things get a little more exciting in this outdoor area. On Sunday nights in the summer, the entirety of the club's interior shuts down, forcing the party out onto this ideal space. The pool is open and guests can dive in as they see fit. if you've ever been to Vegas in the summer, you will know that a little dip in the pool here and there is essential to not passing out in the heat – especially when you're partying hard in one of these extravagant nightclubs.
Now that you know where to go, we have one question…
Why are you still here?!
By "Mark LoProto"