Las Vegas Skydiving
Skydiving Las Vegas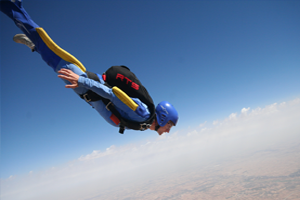 So you are in Vegas and you don't want to do the same old thing. You have walked the strip 10 times, seen the shows, played the links, and dined at the restaurants. You are thinking something with a little more adrenaline and adventure. Then why not jump out of a perfectly good airplane? Skydiving is one of the most fun, crazy, and personally satisfying things one can accomplish.
Once you get over the initial fear that you are about to jump out of and airplane that is 3 miles high and fall for one full minute, then you are just fine. We provide transportation from your hotel out to the dive site. On the way to the dive site (about a 30 min drive) you will watch a short safety video and learn a little more about skydiving. Upon arrival to the site you will be paired with one of our professional skydivers who each have 7,000-12,000 jumps under their belt.
Skydiving is a very safe sport. It just comes with a free adrenaline rush! After being paired up with your instructor and going over a short safety seminar it's time to get on the plane. Fortunately, your instructor has a video camera that takes both live video and still pictures of your skydive experience for you to show family and friends. The plane takes off to 3 miles above the earth. Everyone is looking at each other wondering what they have done! The plane door opens and one by one you are out with adrenaline pumping through your veins.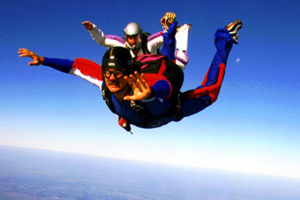 As you free fall for one full minute your screams of fear turn to yells of accomplishment because there is no other feeling in the world that can match the feeling of falling 100 miles per hour to the earth. The shoot opens and you can see 360 degrees for miles. It's a beautiful view of the Hoover Dam, the mountains, and golf courses below you.
Falling with the shoot open for about 5 minutes gives you a true sense of the earth around you. After landing safely and kissing the ground you can acknowledge with your friends that you have conquered a fear that only the select few dare to try. Skydiving is more than just simply jumping out of a plane, but a true sense knowing that you can do anything you set your mind to.