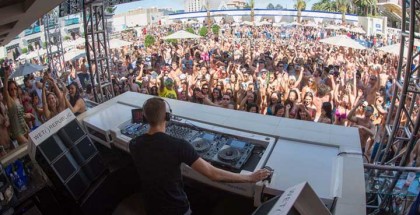 Any normal weekend in Las Vegas is chock full of events and activities to help pass the time, so you must be wondering what happens when a holiday like Labor Day rolls around. The simple answer? Things get far crazier than you would expect.
The people of Las Vegas know how to throw a party, and they use holidays like Labor Day to create weekend long events to draw a crowd. So what's on the table for Vegas VIP during Labor Day 2013? Take a look around Las Vegas, it's impossible to miss.
The Daylife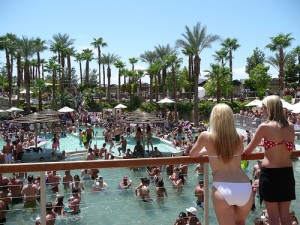 Over the past couple of years, the concept of the Daylife has skyrocketed into matching the level of the Las Vegas' nightlife. Essentially, Daylife focuses on things like pool parties, pool clubs, and dayclubs, which Sin City has no shortage of. Providing the same level of entertainment as nightclubs, dayclubs and pool parties are known for having a line-up of entertainment to help fill an entire weekend – and Labor Day Weekend is no exception.
If you're looking for the best place to settle down and party all weekend, it's going to be difficult; but if you're up for some daytime club hopping, you're in luck! Starting August 30th, Calvin Harris and Tiesto will kick off a weekend long party at the MGM Grand's Wet Republic. Joining this headlining DJs are Tommy Trash and R3hab, so one can expect this three day bash to be one of the more exciting events on the strip.
Looking to change things up on the second day of Labor Day Weekend? Luckily, Encore Beach Club, Rehab, Palms Poo, Marquee, and TAO beach are all joining WET Republic in throwing three day-long events, with special guest DJs and performers that include Snoop Dogg (Aug 31, Rehab), Gareth Emery (Aug 31, Marquee), Afrojack (Sept 1, Encore), and LL Cool J (Aug 31, Palms Pool).
With this level of partying going on just during the weekend's days, it may be best that you start pre-gaming now. It's going to be a rough weekend to get through, and we haven't even touched on the nightlife yet!
The Nightlife
If you think the daylife is stocked with unbeatable events, than just wait until you see what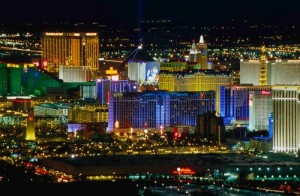 Sin City has in store when the sun sets. Unfortunately, it will be feasibly impossible for you to attend each and every one of these nightclub events, so choose wisely.
Starting on Aug 29, clubs like XS, Tryst, TAO, Moon, Surrender, and Hakkasan will start the Labor Day festivities with musical talent that includes Steve Aoki, Nero, Ice Cube, Exodus, and Seany Mac. Things heat up Aug 30 when Armin Van Buuren invades Marquee, Rev Run & Ruckus fuel the party at Pure, and Lisa Pittman with Exodus keeps things rocking at Moon.
Think you'll still be breathing after those two nights? Maybe Aug 31st's events, which include Kaskade at Marquee, Lil Jon at Tryst, and Knife Party at Surrender will finally do you in. If not, let's look at Sept 1st's lineup. Above & Beyond will take the reigns of Surrender, David Guetta takes over XS, and Kaskade tries to bring the party back to life at TAO – a feat that shouldn't be too difficult.
On the Side
Maybe you're not one for the night and daylife. So, what's out there for you to take advantage of? There are plenty of bars and lounges in Sin City that will be playing host to their own slew of Labor Day events. One such establishment is PBR Rock Bar & Grill, which will be hosting its very own Labor Day drinking challenge. Think you can down 64-ounces of ice cold beer in 64 seconds? On Sept 2, If you do, PBR will pay for the oversized beverage. Sounds like the perfect way to round off a weekend of drinking, right?
Where Dose Vegas VIP Come In?
You may be thinking "But Vegas VIP, how do I get myself into this fantastic events?". Worry night, future patron. We here at Vegas VIP are well equipped to help you get access to these very popular events. All it takes is a phone call and little decision making. Do you want to party down with Steve Aoki at Hakkasan or Ice Cube at TAO? Once you make your decision, just give us a call. We'll get you VIP access, which lets you bypass the door, and a bottle of free premium liquor. Beyond even that, you'll get your very own limousine ride – so you don't even need a designated driver.
If you're looking for a party, Sin City is definitely the place to be, especially during a holiday like Labor Day. This year, why don't you leave the barbecuing aside and join a real party, fueled by real celebrity talent that you won't get to see anywhere else. The crowd is constantly growing in Sin City, so why wouldn't you want to be a part of it this year?