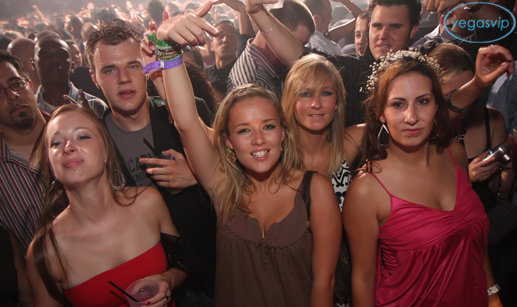 Memorial Day weekend. Sun, fun, booze, babes. A weekend to shake off the long cold winter and rainy spring. A weekend to embrace fun. What better place is there to spend Memorial Day weekend than in Las Vegas? Our weather, our women, our pools, our cocktails and our casinos are second to none. Whether you'd like a sedate adult weekend or a decadent break from reality, VegasVIP can plan your perfect Memorial Day Las Vegas weekend.
Las Vegas is already approaching triple digits by the end of May and there is no better place to cool off than in one of the city's many world class pools. From family friendly to adult clothing optional and all things in between, Las Vegas' pool party scene has become a daytime version of the Las Vegas Nightclub scene. Cabanas with bottle service and Direct TV provide your group with a shady place to relax and take in the sights and sounds around you. Check out our recent blog post about Las Vegas Pool Parties for more information on the pool scene in Las Vegas.
After you've spent the day drinking and soaking up the desert sun you'll probably want to either nap or hit the casino. There are endless options for activities in Las Vegas, and VegasVIP is here to help you make sense of them. From dinner reservations to show tickets, we can be your go to guide and concierge to everything our fine city has to offer. Limo transportation, VIP access to the hottest nightclubs and bottle service for you and your friends – nothing is out of our scope of influence. If you want to hit a lounge or a dance club or a strip club, we've got your hookups.
Let's talk about the food for a moment, shall we? This is not the Las Vegas of cheap buffets anymore. Oh, the buffets are still out there – but they've gone upscale. The restaurant scene in Las Vegas has become one of the world's leading culinary destinations. Restaurants for many of the best chefs have outposts in Las Vegas and your dining options are only as limited as your personal palate. From steaks to seafood to fusion and beyond – Las Vegas will make your taste buds explode with happiness.
We can make your wildest Las Vegas fantasies come true, just give Vegas VIP a call and we'll get right on planning your ultimate Memorial Day weekend. Visit our website to check out your options for nighttime entertainment and then drop us an email or give us a call and we'll put together an unforgettable Memorial Day weekend package for your group.
Las Vegas is the best of all worlds for your Memorial Weekend. The pool scene is like being on the best tropical beaches. Casino action allows you to act like a high roller. World class cuisine and nightlife, not to mention the strip clubs make our city a Disneyland for Adults. During the day, maybe you want to take in a round of golf. Maybe you want to do a little shopping.
Whatever your heart desires, we can make happen, but make sure you act fast, as this summer kick off weekend fills up all the hotels quickly every single year. The clubs are packed, the casinos are in high gear and the pools are, well let's face it, with all those hard bodies parading around nearly naked, the pools of Las Vegas are heavenly. Make sure you and your friends are a part of it by having Vegas VIP take care of all of the details.
By "Hatice Jannie"