Las Vegas Birthday Party Packages
Birthday Bash

What's included:

Limo Transfer to Gordon Biersch
Birthday Dinner with Cake
Private Dining Room Available
Limo Transfer to Nightclub
VIP Entry to Chateau Nightclub

Call 1.800.VEGASVIPfor exclusive pricing

BOOK / Inquire

Naughty Birthday

What's included:

Limo Transfer to Gordon Biersch
Birthday Dinner with Cake
Private Dining Room Available
Limo Transfer to Strip Club
VIP Entry to Sapphire or MEN Show

Call 1.800.VEGASVIPfor exclusive pricing

BOOK / Inquire
* 6 person minimum. Excludes holidays. Subject to availability.
How to Plan it Right
No matter who you are, each year you're forced to face that one day that seems to mock all of the things that you didn't accomplish the year prior. Everybody seems to think it's a day you wish to celebrate; something that you want them to honor you for. In hindsight, most people despise this day and can barely muster the strength to even say its name – the dreaded Birthday. What these trepid individuals are more-than-likely missing out on by pouting the entire day is the good, carefree time in Vegas can provide.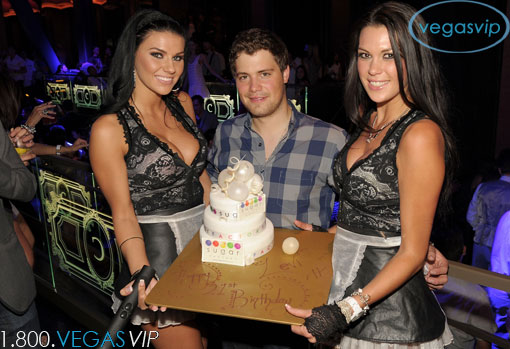 Since Las Vegas is a land where age kind of takes a back seat, anybody has the right and ability to enjoy a birthday party done to their liking. Vegas VIP give you or the party planner the ability to fully customize your special day. A check list of what you wish to include kicks off the submission form and include options like: Dining, exotic cars, gun range, pole-dancing lessons, gentlemen's club, and many more. Once your desired activities have been decided upon, it's then onto figuring out the number of guests and an estimated "entertainment budget", rated at a per person basis. Some other options on the site include a section that allows you to input what hotels, nightclubs, and restaurants you'd like to visit. From there, the team will work their magic and create the best experience based on your choices; Think of it as an E-Harmony for parties. Vegas VIP can take care of your event no matter the age with package options for 21st, 30th, 40th, 50th, and romantic party.
The most infamous celebration that can be had in Sin City is the ever popular ritual of the 21st celebration. While the crew can easily create an experience for you, the best way to enjoy a 21st birthday is to have nothing planned. For a 21 year old, spontaneity makes the experience. One of the better ways to enjoy a 21 year old celebration, though, is to come in the day before and experience what Vegas is like when you can't partake in most of its trendy activities. Come midnight the night off, you'll be able to let loose, let out all that pent-up excitement, and potentially remember nothing the morning after. Any club is suitable for a 21st bash, but to get the best out of it, a place like the VooDoo Lounge comes highly recommended. The 52-floor high rooftop view and intimate indoor seating offer the best of what Las Vegas has to offer, and one such a momentous occasion, the best is what is deserved.
As any resident of Las Vegas, Nevada can attest to, a celebration in this desert city is unlike any other. With a plethora of nightclubs, resort pools, day clubs, restaurants, and bars, the party atmosphere carries over from any venue to the next. If you're unsure of where to start, though, be sure to use the staff over at Vegas VIP to ensure a fully enjoyable experience.