Moorea Beach Club
& Bottle Service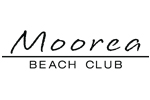 Location:

Mandalay Bay

Open:

11 a.m. to 7 p.m.

Music:

Open Format.

Attire:

Beach Attire
Moorea Beach Club VIP Packages
Life is a Beach

What's included:

Call 1.800.VEGASVIPfor exclusive pricing

BOOK / Inquire

24 Hour Party

What's included:

Limo transportation
VIP entry to pool party
Reserved pool cabana/daybed at your choice of TAO Beach, Marquee Dayclub, Drai's Beach Club, Wet Republic, Encore Beach, Daylight, Bare or Liquid Pools
Limo transfer to your choice of Restaurant
All inclusive set menu dining
Limo transfer to nightclub
VIP bottle service at the top nightclub
Limo transfer to strip club
VIP entry to after hours party

Call 1.800.VEGASVIPfor exclusive pricing

BOOK / Inquire
Moorea Beach Club December, January 2024 Events Calendar
Moorea Beach Club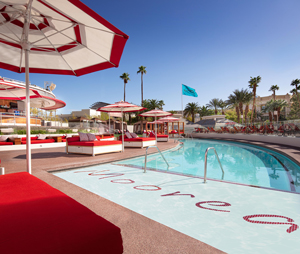 Moorea Beach Club at Mandalay Bay offers guests a unique pool party experience. Each summer, beach clubs throughout Las Vegas begin to open their doors to the public, giving locals and tourists alike the chance to keep cool and relax. Moorea Beach Club offers guests an adults-only pool party experience, equipped with a wide selection of lavish amenities and services.
This popular Vegas pool party venue offers a European-inspired design. Guests can lounge on the cushioned chaise lounge chairs, day beds, or opium beds which overlook the Toptional beach. Poolside massage services are also available for guests who need some extra stress relief. Guests can even escape to the Villas Soleil which is equipped with king-sized beds, flat screen TVs, and a private pool.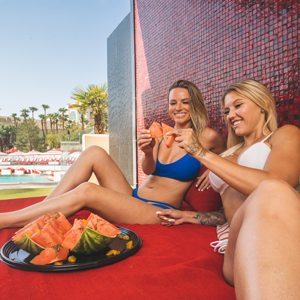 Moorea Beach Club overlooks the awe-inspiring Mandalay Bay Beach which stretches more than 11 acres. Topless sunbathers are welcome here, which is where Moorea's term "toptional" was created.
If you're planning a visit to Moorea Beach Club, you may want to consider your choices of amenities. Cabanas are a popular option for smaller groups. The cabanas at Moorea can accommodate up to 10 people and include lounge chairs, ceiling fan, couch, safes, wifi access, TV, towel service, and a side table. If you're visiting with just a couple friends, a daybed can accommodate up to four people and includes wifi and towel service.
An opium bed offers amazing views of the venue and is centrally located on the main deck. These beds can accommodate up to three people and offer wifi, towel service, and a side table. Finally, you may want to reserve a pavilion. Moorea's Pavilions are set above the main floor and offer a private lounge and pool area. They can accommodate up to 10 people and offer a ceiling fan, daybeds, safe, wifi, fridge, storage cabinet, TV, towel service, side table, and lounge chairs.
If you're willing to splurge to enjoy a true VIP experience, consider reserving a Moorea Villa. The Grand Villa Bungalow is located on the third floor roof top pool deck and offers guests their own private deck and direct views of the Mandalay Bay Beach complex. It can accommodate up to 10 people and offers many of the amenities available with other rentals, as well as air conditioning, TVs with surround sound systems, private restroom, padded lounge chairs, and private outdoor shower area.
There are many reasons to visit Moorea Beach Club aside from a day of rest and relaxation. You may want to host a bachelor or bachelorette party or perhaps celebrate a birthday or other occasion. Of course, you'll want to reserve a private table with bottle service for this big event. While you may be paying a premium for a bottle, there are many perks involved in bottle service.
Upon arrival to the beach club, you'll be led to your private table. Your personal server will arrive to take your order. The cost of a bottle starts around $425 and goes up from there. You'll also get an assortment of standard mixers, such as soda, cranberry juice, orange juice, tonic, pineapple juice, and soft drinks. Bottled water and Red Bulls are usually available for an upcharge. When reserving a table with bottle service, remember that there is a minimum spend that you agree to spend in advance on alcohol.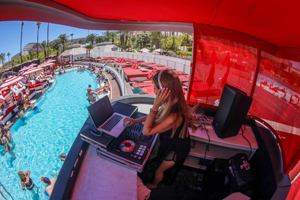 The wait time to get into Moorea Beach Club if you're not getting table service is between 30 and 60 minutes on average, depending on what time you arrive. Arrive earlier if you want to avoid long lines. This exclusive outdoor environment with its great music, personalized attendants, poolside massage services is the perfect place to spend a stress-free weekend.