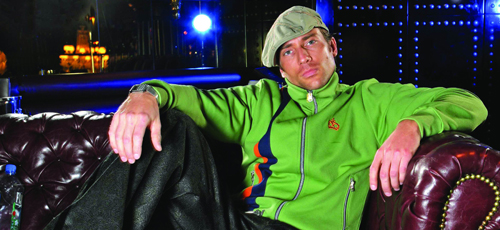 If you aren't from Las Vegas you might not be familiar with the name Jack Lafleur.   However, you may be familiar with some of the parties and events his name is attached to.  Rehab at the Hard Rock, the worlds biggest and most widely publicized hotel pool party, Worship Thursday at Tao in the Venetian, and his baby, Sunday School at Vanity in the Hard Rock are all by-products of one Jack Lafleur, "Super Promoter".  Everything he has put his finger and unique spin on has turned into an almost virtual overnight success.  So why did he abruptly turn his attention away from all of his success in promotions?  The answer, it was a cold January night in Boston when Josh Wink played a set putting an indelible stamp on me. On that night, I formed a bond with House Music so strong it would ultimately lead me to walk away from all my successes and focus solely on my passion, House Music."  That day the Jack Lafleur Las Vegan's had come to know, love, admire and envy was laid to rest.  DJ Jack Lafleur was born.
A native of Boston, Jack began spinning full time about 3 years ago. He introduced Las Vegas to his brand of vocal and electro house music during the "Sunset Sessions" at the famed Rehab pool party. During the his Promotions Director stent at the Hard Rock Jack began spinning House Music inside the Parlor room inside of Vanity on Sunday Nights which became known as Sunday School. Admission into the parlor started off as invite only but word spread quickly and soon the Parlor became just as popular as the main room. Jack quickly became known as one of the premier House DJ's in Las Vegas and was sought after by Blush Boutique Nightclub inside the Wynn hotel. Blush already having a successful Tuesday locals night decided to try and cash in on Jack's current rise to local stardom as a DJ. "Project Thursdays" was set up as a second local's night featuring House Music sets by DJ Jack Lafleur. The buzz was there for a few months but slowly began trickle down. After parting with Blush, Jack began spinning Thursday at the top after hours spot in Las Vegas, Drai's. This also had a short run. Despite hitting a few minor road blocks while trying to branch out in Las Vegas Jack began spinning in other cities. Jack has had regular appearances at club Envy in San Diego at the Ivy Hotel, Avia Spa and Statement Lounge in Santa Barbara, Tentation Lounge in New Port Beach and Level in Chicago while maintaining his residency in the Parlor at the Hard Rock.
During the course of the last year Jack has been noted and rewarded for his style and skills behind the turntables. The Ministry of Sound, widely known as the industry standard in House Music, teamed up with Body English to bring in big name House Music DJ's on Wednesday nights. The Ministry of Sound plays promoter and agent to some of the biggest names in House Music like Kaskade, Dirty South, Pete Tong, Bad Boy Bill, The Crystal Method, Deadmau5 and a host of many other legendary House Music DJ's. Jack was named resident DJ on Wednesday nights at Body English so he has opened for the biggest of the big in the industry. He has also opened for the most widely know House Music DJ in the world, Paul Oakenfold during his ongoing "Perfecto" production inside Rain at the Palms. Jack has strived to become the best DJ he can possibly be. He admits, "There are tons of DJ's out there who are more skilled than me, but it's something that I continue to improve. I think my passion for music is on par with the best of the best. I'm not saying I'm the next Tiesto, but I would love to push myself to try to get to the level of recognition."
Saying the future for DJ Jack Lafleur looks bright is a gross understatement. With his tireless work ethic and undying passion for House Music the sky is the limit. He hopes to DJ overseas in Ibiza and in London where house music reigns supreme. On any given weekend the nightclubs overseas can see upwards of 10,000 people. There's not a DJ on the planet that doesn't long to spin in front of that many people. You can catch DJ Jack Lafleur on the 1's and 2's Fridays at the Noir Bar inside the Luxor, and Wednesday and Sundays at Body English at the Hard Rock.
By "Dan Nunes"