TAO Beach
Cabana Rentals & Bottle Service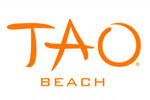 Location:

Venetian Hotel

Open:

Re-opening Spring 2017

Music:

Hip-hop, house, rock.

Attire:

Beach/pool attire required. Topless is allowed on Mon & Thurs.

Seating:

Bar seating, chaise lounges, cabanas, daybeds.

TAO Beach VIP Packages
Dayclub / Nightclub

What's included:

Limo Transfer to TAO Beach
VIP Entry to TAO Beach
Limo Transfer back to Hotel
Limo Transfer later to Nightclub
VIP Entry to a Top Nightclub

Call 1.800.VEGASVIPfor exclusive pricing

BOOK / Inquire

Life's a Beach

What's included:

Limo transfer to TAO Beach
VIP entry to TAO Beach
Reserved pool cabana/daybed
Food & beverage minimum included

Call 1.800.VEGASVIPfor exclusive pricing

BOOK / Inquire
TAO Beach Club November, December 2019 Events Calendar
TAO Beach Las Vegas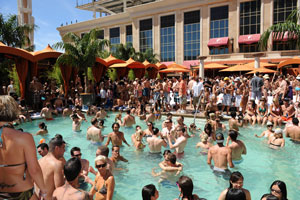 Even if you're in town for just one day, everybody needs to find some form of relief from the scorching desert sun. When a city has the potential to reach up to 112 degrees, it's important to know where you can retreat to to either just cool off or to continue working on that impeccable tan. If you're a girl that loves to party and enjoys the nightclub scene, chances are you've heard of TAO - one of Las Vegas' most sought after clubs. Realizing the success of the nightclub, the crew that brought you TAO knew exactly how to increase their profits ten-fold - by creating a daytime oasis for nightclubbers and sun lovers to escape to before the nightly party begins. TAO Beach is everything TAO nightclub succeeds to be, just with a little bit of a daytime / poolside twist.
If you're unfamiliar with the concept behind a beach club, it's fairly simple. Take the party atmosphere from a nightclub and transport it to a poolside, resort-style location. At TAO Beach, you'll get the best of both the night and day scenes.
The first thing you're bound to notice when you enter TAO Beach's exquisite location is the stream of hip-hop, house, and rock music blaring comfortable throughout the pool area. Resident DJs Reach and Galeano will immediately try to get your feet moving, but don't expect to be grinding the night away on some crowded dance floor. Replacing the overcrowded polished wood is a full sized pool that acts as the perfect area to lounge or party in.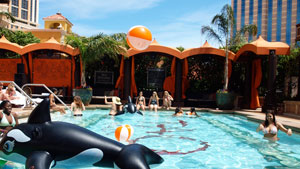 While you may want to work on that sun-kissed skin, everybody eventually falls victim to the potential of overheating in the desert. To rectify any sudden weakness to the sun, TAO beach offers a full sized far stock piled with a healthy assortment of liquors and beers. You can even take your drink into the shade if you plan ahead and rent one of TAO's twelve luxury cabanas. The cabanas take on a "hotel room" feel with fully functional air conditioning, flat-panel televisions, DVD player, WiFi capabilities, and a private mini-bar. Partake in the ultimate luxury these cabanas have to offer and let one of TAO's expertly trained masseuses relieve the weeks tension.
Of course anybody that isn't new to the whole "party scene" knows that eventually your stomach will start to growl louder than the music can play. To satiate your hunger needs, the TAO Asian Bistro offers a fine array of appetizers and grilled items, along with a full selection of sushi. TAO Asian Bistro will act as your refueling station so you won't have to leave the party to grab a bite to eat.
One distinct different between TAO Beach and other beach clubs is its topless affair that starts on Monday and ends on Thursday. For this four day stretch, guests can turn TAO into a European-style pool and eradicate those tan-lines plaguing your chest.
It should go without saying that anybody that loves to party should make a stop at TAO Beach. Expect to spend the entire day at this beach club, especially since it has everything you could possibly ask for.