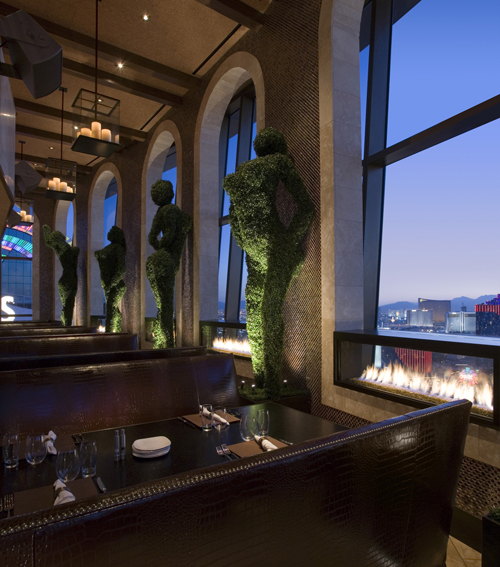 In recent years, Las Vegas has undergone a renaissance that has transformed it from a city known primarily for gambling and entertainment into a top cultural destination. In particular, the city has become well-known for its outstanding restaurants and superb fine dining experience.
After a busy day of enjoying the sights and sounds of Las Vegas or wagering money at roulette, it is time for you and your friends to enjoy a night of fine dining. Where are some of the best places to eat in Sin City ? While there are literally hundreds of spots at every end of the price spectrum, the following are just a few of the best places to grab a bite.
Joel Robuchon at the MGM Grand Hotel and Casino
World-famous French chef Joel Robuchon's restaurant at the MGM Grand makes for a particularly special dining experience. Ranked as one of the finest restaurants in Las Vegas, the menu showcases the very best of traditional French cuisine. Indulge with the signature dishes of La Langoustine and La Fraise, or opt for the amazing 16-course tasting menu. Formal attire is required, so save this fine dining event for a romantic evening with the one you love.
Guy Savoy at Caesar's Palace Hotel and Casino
Looking for a meal in which the food is elevated to the level of high art? Then do not miss Guy Savoy, a French restaurant sure to please the palate of even the pickiest gastronome. The atmosphere and service are superb, but it is the food that is truly the main event. Breton lobster, artichoke soup with black truffles and matured cheeses are just a few of the culinary delights showcased in this Caesar's Palace restaurant.
Mesa Grill at Caesar's Palace Hotel and Casino
If you are in the mood for American food with a Southwestern flair from one of the country's best-known chefs, then do not miss the great food at Bobby Flay's Mesa Grill . Try the delicious Pork Tenderloin sandwich or the tasty Soft Shell Crab. No matter what you are in the mood for, you will be sure to find something on the restaurant's mouth-watering menu.
Trevi at the Forum Shops
After a long day of shopping through such stores as Chanel, Sony, Banana Republic and other high end shops, reward yourself with a scrumptious meal at Trevi. This restaurant's hip atmosphere makes it popular with both locals and tourists alike, making it a great place to hang out, enjoy a meal and watch passers-by. Some of the Italian menu highlights include the Clam Linguini and brick-oven pizza, but there is something bound to please all tastes.
The Village Seafood Buffet at the Rio
Finally, no visit to Las Vegas is complete without eating at least one buffet meal. If you love seafood, you will be sure to love the excellent food and service that this restaurant at Rio Hotel has to offer. Even those who do not particularly enjoy seafood can enjoy a great meal, with an excellent selection that include prime rib, beef brisket and flank steak. Try the lobster tails, crab legs, seafood pasta, clam chowder, barbecue prawns and sushi. Be sure to save room for dessert as well, with numerous gelato flavors available for your dining pleasure.
By "Mark Loproto"