Spearmint Rhino Gentleman's Club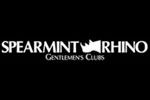 Location:

S Highland Dr

Open:

24/7

Music:

House, Hip-hop, Top-40

Alcohol:

Yes. Full stocked bar
Spearmint Rhino VIP Packages
Guys Night Out

What's included:

Call 1.800.VEGASVIPStarting at $199 per person

BOOK / Inquire

Just Wynn Baby

What's included:

Limo transfer to Spearmint Rhino
VIP Entry to Spearmint Rhino Gentlemen's Club
Limo transfer to Wynn Hotel & Casino
VIP Table Service at Encore Beach at Night with magnum bottles of premium vodka
Includes VIP entry, taxes, and waitress gratuity

Call 1.800.VEGASVIPStarting at $199 per person

BOOK / INQUIRE
Spearmint Rhino Strip Club Las Vegas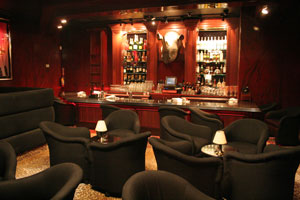 Las Vegas is known for many things. There are the restaurants, the shows and, of course, the casinos. Even the nightclubs have gained national recognition. The one attraction, however, that is responsible for putting the "sinEin "sin cityEis the stripclub.
Many of these adult playgrounds have come and gone, but one has risen to the top and has stayed there by managing to find the right balance between exotic entertainment and class. That establishment is the Spearmint Rhino. The name is popular amongst stripclubs. With multiple locations in the United States and gentlemen's clubs in the U.K., Canada, Australia and New Zealand, it is no wonder that most tourists ask for it by name. The Spearmint Rhino Las Vegas is located just a few blocks from the strip. The main entrance is impressive and reassures customers that this isn't a sleazy place. On busy weekend nights, it is not uncommon to encounter a 15 to 20 minute line to get in. Once past the cashier, the dim lighting and beat laden music reminds you that you are not in Kansas anymore Toto. To the left is a large room with a stage and a bar, where you will get your first glimpse of female skin. This area is called the Rhino Room and is secluded from the rest of the club. It is intended to be a lounge to handle overflow (which is just about every night) and large private functions. If you can unlock your eyes long enough to get past the Rhino Room, you will reach the main floor. The sizable center stage is equipped with 3 poles and plenty of room for 3 to 5 performing entertainers. The ladies that work at the Spearmint Rhino in Las Vegas are stunning. It is easy to see why the place is so popular. The main stage floor is peppered with comfortable seating and tables. The décor is very upscale with dark, wood-paneled walls on which large framed photographs of erotic porn stars are hung.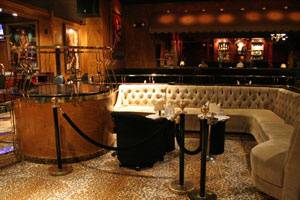 Toward the back of the area are more seats and the VIP booths which are reserved for special guests and bottle service. Tucked away at the rear of the stripclub is the Champagne Room. This is an exclusive parlor for VIPs and for private dances. The bar serves premium liquor and fine cigars are always available. There is no question you will have a great time at Spearmint Rhino, the question is, how much is it gonna cost you?