Elia Beach Club
& Bottle Service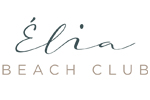 Location:

Virgin Hotels

Open:

Friday-Sunday | 11 AM – 5 PM

Music:

EDM, Tech House, & Open Format.

Attire:

Swim attire only
Elia Beach Club VIP Packages
Life is a Beach

What's included:

Call 1.800.VEGASVIPfor exclusive pricing

BOOK / Inquire

24 Hour Party

What's included:

Limo transportation
VIP entry to pool party
Reserved pool cabana/daybed at your choice of TAO Beach, Marquee Dayclub, Drai's Beach Club, Wet Republic, Encore Beach, Daylight, Bare or Liquid Pools
Limo transfer to your choice of Restaurant
All inclusive set menu dining
Limo transfer to nightclub
VIP bottle service at the top nightclub
Limo transfer to strip club
VIP entry to after hours party

Call 1.800.VEGASVIPfor exclusive pricing

BOOK / Inquire
Elia Beach Club December, January 2024 Events Calendar
Elia Beach Club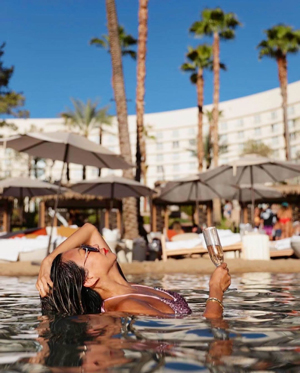 Elia Beach Club debuted in Las Vegas at the Virgin Hotel in June of 2021. The city's newest beach club provides guests with an upscale, tropical paradise that boasts global design influences. Elia Beach Club hospitality leader Mio Danilovic has said that the design was inspired by years of traveling to destinations across the world, such as Tulum and Mykonos.
The lavish beach club overlooks a Mediterraran-colored swimming pool and features a beautifully-designed stage with a straw thatched roof which acts as a focal point for guests and performers that enter the club. Elia regularly hosts a diverse range of musical guests, from well-known DJs to celebrity guest performers. The beach club effortlessly incorporates world house, tropical house, and deep house, with a focus on dancing and good vibes.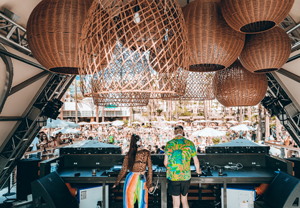 Relaxation is easy when you spend a day at Elia. Guests can spend the afternoon cooling off in the water or lounging on a cozy daybed in the sand. Some guests prefer the luxury of a spacious cabana stocked with cozy furniture and lavish amenities. There is also a massive covered outdoor lounge and bar that offers ample shade. Elia beach club is fully equipped with state-of-the-art audio and visual technology, making it the ultimate party destination during the summer months.
Elia Beach Club is also known for its elevated cocktail program. Local luminary Peter Vitolo was brought in to help curate the beverage program to ensure it excels in speed, delivery, and overall quality. The beverages at Elia contain premium ingredients and includes frozen classics reiminiscent of those enjoyed in tropical and exotic locations.
Some of the most popular options include Flamenco Beach with Grey Goose Watermelon, St. Germain elderflower liqeur, Basil Essence vodka, cucumber, watermelon juice, and lime. The Banana Cabana is a frozen delight and contains a mix of Barcadi Superior rum, pina coloada mix, and Real banana syrup.
Like other leading Las Vegas clubs and pool parties, Elia Beach Club offers bottle service to those willing to splurge. Table service pricing varies based on the event for the day and demand. However, most table minimums start at $1,000. If you're looking for the best table location at Elia, consider a stage table where you'll be up close to the action. The premium VIP cabanas are also prime real estate and give guests the freedom and amazing ambiance of a poolside location with access to cozy daybeds.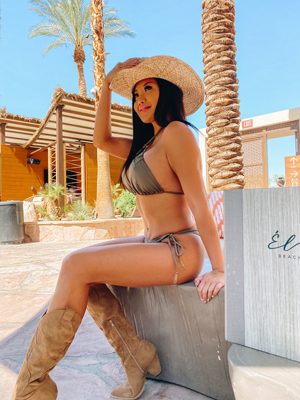 Elia Beach Club is not just about drinking and lounging by the pool. The newest pool party scene also focuses on health and wellness. Throughout the season, Elia hosts a variety of community classes like yoga and fitness. The club also has IV and oxygen stations, body painters, and retail and massage therapy.
There is much to discover and love about Elia. Head up to the second floor of the venue where you'll find an additional swimming pool and bar area that overlooks the sand-bottom pool and party going on below. If you want to get out of the heat, make your way into the Living Room located just under the second story pool. This is where guests can cool down, relax, and enjoy a signature cocktail. There are also many other places to sit and socialize. Elia Beach Club offers 21 cabanas and 57 daybeds.
Elia Beach features a photographic backdrop, tropical pool atmposphere, and upscale light fixtures. It's the perfect enviroment for all types of celebrations, from bachelor and bachelorette parties to girls' or guys' nights out. With its sophisticated infinity pool and exclusive Greek style bar, Elia Beach Club offers a party experience unlike any other in Las Vegas. When the weather starts to warm up, Elia is where you'll want to be.