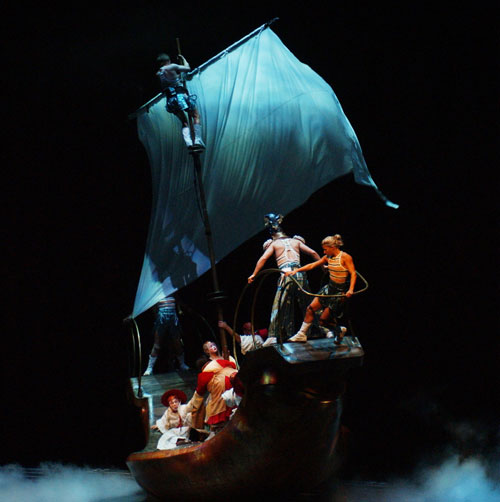 Anybody that's stepped foot inside a Las Vegas hotel knows that the central focus of this city is its gambling. The casino floor's typically stretch throughout the bulk of the resort, offering a plethora of gaming opportunities for the wandering traveler. What if you grow tired of the Las Vegas norm, though, and want to experience something fresher than the stale air of the city's abundance of gambling halls? With production values that rival some Broadway shows, a live Las Vegas show is the perfect alternative to sucking in somebody else's smoke.
Depending on your tastes, Las Vegas can cater to your every whim. Live performances in Sin City range from simple dinner shows to full-on productions and offer anything from strictly adult entertainment to something the kids may enjoy as well. Tickets can be pricey if purchased through the box office, but a stop at exploringlasvegas.com could make your ticket transaction not only cheaper, but also much simpler. Choose from a vast assortment of shows including the city's infamous Australia's Thunder from Down Under, where you'll experience the raw sexual nature that Australia has brought to the states, or the improv driven dinner show, Tony and Tina's Wedding.
Known for its showy nature, Sin City is also the home to world renowned illusionist David Copperfield, who has been performing at the MGM Grande for several years, bringing his mystical world to life at the resort's Hollywood Theater. Fans of Andrew Lloyd Webber's interpretation of the Phantom of the Opera can marvel at the Vegas-ized Phantom – The Las Vegas Spectacular. Putting a Las Vegas spin on the classic French story, Phantom offers beautiful set pieces and fantastical effects that would make Webber blush. Of course, when speaking of production value, one must consider the Canadian troop Cirque du Soleil, who has graced Las Vegas with such masterpieces as Ka and Zumanity. Follow the perilous journey of two young tribe successors as an attack on their convoy sends them on two separate mystical journeys through the magical land of Ka; or witness the sexually charged side of Cirque with the risqué Zumanity.
Those that decide to travel with children are in luck as the critically acclaimed Blue Man Group grace the Venetian's "Blue Man" theater. An experience filled with an abundance of laughs, gags, and musical interludes, Blue Man Group is a must see for any all family vacationers in Las Vegas. Adult couples that choose to leave the children home with their grandparents can follow-up this light hearted experience with a trip into the supernatural side of Sin City. Ride along in a tour bus with a ghastly guide as you witness some of Las Vegas' most haunted locations in the Haunted Vegas Tour.
By "Dan Nunes"