At these establishments, you can safely release some tension with the simple pull of a trigger. Fire anything from a simple 9mm to a fully loaded automatic machine gun. Blow away targets and make it a competition with your friends to see who has the best aim.
5. Get a Ride Around Town
Cruising around Vegas may be difficult considering the number of stoplights spread along Las Vegas Blvd, but that doesn't mean you shouldn't trudge along if you've procured the right ride.
rentals will put you in the drivers seat of some of the sexiest cars you will ever lay eyes on. Those sleek vessels are great for when you just want to cruise the night away or are an excellent resource to some well-deserved bragging rights.
4. Stay Somewhere Extravagant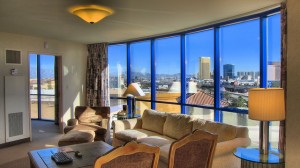 Hotels as far as the eye can see. There's no secret to Sin City's plethora of resort hotels, so it's a matter of taste. Within these extravagant accommodations, though, are suites that would make a Kardashian cry.
These large rooms can accommodate you and several other stags – as well as a party that you may want to bring back from clubbing. An entertainment space in the living room (yeah, there's a living room) will sport a flat screen T.V. and surround sound.
These suites also typically have amazing views of the Strip, possibly even a balcony to enjoy the view on. You'll be surprised what a suite will get you, such as your own concierge to make sure your stay is as comfortable as it can be.
3. Watch Vegas Bare it All
Did we hear you say "lap dance"? That's right, we didn't, and that's a problem. There are many strip clubs in Vegas waiting for your business, and we think, for a stag party, you may want to indulge them. Clubs like Sapphire, Spearmint Rhino, and The Hustler Club are popular joints with so much to offer.
The Hustler Club, specifically, provides a place to eat, party, and pick up some official merchandise.
Go for VIP access and you'll also get entry into these clubs VIP-specific rooms. You and your party will enjoy a private experience with your own private stage, where a selection of the club's girls will entertain just you and your party.