8. Tour the Desert
There's a lot to see within the city, that's for sure, but surely you'd like to escape the city life at least once during your time in Vegas. Lucky for you, we specialize in setting up tours of the outskirts of Vegas. We're talking ATV tours that take you through the famed Valley of Fire, helicopter tours that circle the Strip, or, if you're feeling seriously adventurous, you can parachute down from an airplane right in the middle of the desert.
Whether you're grounded in the desert sands or getting a view from above, we guarantee you're going to want to bring a GoPro to relive these once-in-a-lifetime memories over and over again.
7. Check Out a Giant Hole in the Ground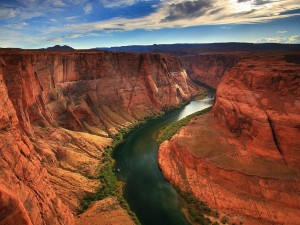 About 220 miles south of Las Vegas sits the Grand Canyon. Sure, it's mostly just a massive hole in the ground, but there's plenty that the Grand Canyon has to offer that many other holes don't. Such as camping amenities, donkey tours, and even a scenic overlook with a glass floor. You can even charter a white water rafting adventure down the Colorado.
The Grand Canyon is majestic, and the best way to determine just how much so is to see it first hand. Guaranteed you won't be disappointed.
6. Blow Off Some Steam
You wont come across many times in your life where you're told to go shoot something, but this is one of them. Trek through the inner city of Las Vegas one day and you may notice billboards and taxi-backs that announce several places where you can shoot off a real life machine gun. Shooting ranges are in no short supply in Las Vegas with several of them being located just off of the Las Vegas Strip.