Pure Bottle Service
Location:

Caesar's Palace

Nights:

Tuesday, Friday - Sunday

Lounge:

Tuesday - Sunday

Music:

Top 40, House, Hip-hop

Dress Code:

Strictly enforced, No hats, baggy clothing or t-shirts

Local Night:

Pure Tuesdays

CLOSED re-opened as OMNIA Nightclub
Pure Nightclub Las Vegas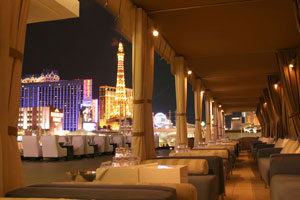 The long-time, heavyweight champion of nightclubs in Las Vegas is Pure nightclub at Caesar's Palace Hotel and Casino. Recently rated as the top hotspot in the country, Pure nightclub shows no signs of slowing down. The addition of the Pussycat Dolls lounge has made Pure a favorite among party goers to Vegas, especially the ladies. Located just next to the Caesar's Palace sportsbook and the new private poker room, Pure nightclub has become a landmark among many attractions at the historic strip property.
The lines outside Pure nightclub are massive, to say the least. A 3 hour wait on some nights, if your group can even make it in, but once inside, it is easy to see what all of the hype is about. Just inside the club and to the left is the Pussycat Dolls Lounge. It is a decadent playground complete with two stages and a number of other mini-stages to accommodate 1 or 2 performers. The varying troupe of Pussycat Dolls performs their sultry dance routine every hour and is definitely easy on the eyes. VIP table seating is available in the lounge. Adjacent to the Pussycat Dolls lounge is the plush Red Room. With its more relaxed, intimate setting and soothing burgundy color scheme, the Red Room is just the perfect spot for those who would rather see than be seen.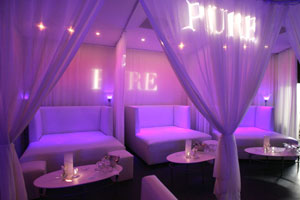 The main room of Pure nightclub is decorated with clean white colors. There is a main dance floor with plenty of VIP seating surrounding it. To the rear of the dance floor and to the left of the main room are cabana style beds. These are considered prime "real estate" and are usually occupied by celebrities and famous sports figures. There are 3 bars in the main room at Pure for those who opt for $12 mixed drinks rather than doing bottle service.
For a normal nightclub, that would make for an impressive venue, but for Pure there is one more trick up its sleeve. That trick is a 14,000 square foot outdoor rooftop patio complete with large capacity bar and some of the best VIP seating in town. The patio overlooks the fountains at Caesar's Palace and the famous Las Vegas strip. On spring and summer nights, there is no better place to be than relaxing in your own VIP cabana on Pure's patio deck while enjoying premium bottle service and grooving to the best DJs as they spin infectious house music and hip-hop beats. Long live the champ!