Skyfall Lounge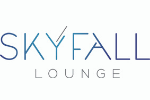 Location:

@Delano Las Vegas: 3940 S Las Vegas Blvd. Las Vegas, NV 89119

Nights:

Mon – Thu, Sun: 5:00PM – 12:00AM
Fri – Sat: 5:00PM – 1:00AM

Music:

Upbeat house, dance music, DJ

Dress Code:

Nightlife Attire

Skyfall Bottle Service & VIP Packages
VIP Entry with Table

What's included:

Limo transportation
Dedicated VIP Host
VIP entry to Nightclub
VIP Table with bottle service

Call 1.800.VEGASVIPfor exclusive pricing

BOOK / Inquire

2 Club Tables w Limo

What's included:

Vegas VIP Host
Limo Transfer to strip club
Strip club VIP entry & bottle service
Limo Transfer to the nightclub
Nightclub VIP Entry & Table
No Line (includes cover)

Call 1.800.VEGASVIPfor exclusive pricing

BOOK / Inquire
VIP Packages for Ladies
VIP Entry for Ladies

What's included:

Limo transportation
Dedicated VIP Host
VIP entry to Nightclub
Nightclub Tour

Call 1.800.VEGASVIPfor exclusive pricing

BOOK / Inquire

Queen of the Night

What's included:

Limo transportation
Firefly dinner with 2-hour open menu & bar (all inclusive)
VIP entry and "HOT Seats" at Chippendales Show
VIP entry to the Nightclub with bottle service

Call 1.800.VEGASVIPfor exclusive pricing

BOOK / Inquire
Skyfall Lounge June, July 2023 Calendar - Weekly Events
Skyfall Lounge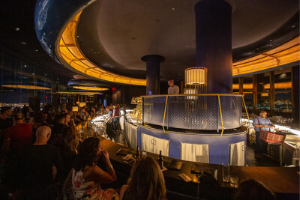 Skyfall Lounge is a relaxed and trendy rooftop bar and cocktail lounge located at the fabulous Delano Las Vegas at Mandalay Bay. You can find the popular hangout spot on the 64 th floor where guests can enjoy incredible views of the Strip and beyond. While Skyfall Lounge is primarily an indoor venue, they do offer an open-air terrace balcony for visitors who want to enjoy fresh air, socialization, and views of the setting desert sun. What makes Skyfall Lounge truly unique is that it offers visitors 180-degree views of the city through the lounge's massive clear glass windows.
Located adjacent to Rivea, Skyfall Lounge offers guests a multi-sensory experience with its dramatic interiors, artisan cocktails, and creative plates. With a laidback atmosphere and fun music choices from the resident DJ, Skyfall Lounge is an escape from the daily grind. The lounge is open Sunday through Thursday from 5 PM to 12 AM and Friday and Saturday from 5 PM to 1 AM. The dress code is nightlife attire so dress accordingly. If you are interested in hosting any type of private party or celebration at Skyfall Lounge, the venue is also available for private events and buyouts.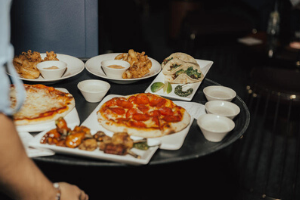 Skyfall Lounge is a warm and inviting space where guests can sit back, sip on a glass of champagne, and enjoy music. Guests can also choose to dance the night away as the DJ continues to spin upbeat house and dance music until closing time. If you're planning on getting a bite to eat while at Skyfall Lounge, be sure to get table reservations ahead of time and show up on time. Table reservations are held for 15 minutes. The menu at Skyfall Lounge is fairly diverse with options like charcuterie and cheese, pizzetta, tigelle, chickpea fritters, calamari fritters, rivea salad, and beef sliders.
At Skyfall Lounge, you'll find plenty of popular drink options, including craft brews, domestic and imports, wine, spirits, and bottles like vodka, gin, tequila, and whisky. The lounge also offers night caps like espresso martinis and cognac. If you have a sweet tooth, try something off the dessert menu, such as tiramisu or a strawberry tart. Even if you're visiting Skyfall Lounge after dinner, the venue is the perfect place to bring a date or group of friends for a drink. Reservations are not required but if you want to get an outdoor patio table between Thursday and Sunday you will want to make a reservation.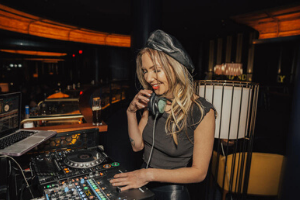 Skyfall Lounge has become one of the most elegant spots in Las Vegas and for good reason. Not only are the views magnificent, but the service is on point and the décor is refined and sophisticated. It's no wonder why this space is frequently picked as a background for wedding proposals. Skyfall Lounge is also known as having one of the very best cocktail programs in the city. If you are planning a visit, know that there are two seating's available: from 5 PM to 8 PM or from 9 PM to close.
Skyfall is not your typical Las Vegas lounge. You will not find scantily dressed waitresses slinging bottles or drinks mixed with soda from a gun. Instead, there are bar assistants who work hard to create cocktails using only fresh ingredients and food cooked by renowned chefs. The lounge is also different from your usual nightclub vibe.
Guests can enjoy a more casual ambiance that is upscale and relaxing. They are also unique in their drink options. In addition to bottles, guests can purchase punch bowl service for $150. Experience Skyfall Lounge for yourself the next time you're in Vegas.