Foundation Room Bottle Service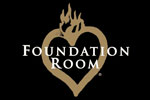 Location:

Mandalay Bay

Nights:

Monday 5pm - 3am.

Music:

Progessive House

Dress Code:

Dress to impress

Local Night:

Monday
Foundation Room Bottle Service & VIP Packages
VIP Entry with Table

What's included:

Limo transportation
Dedicated VIP Host
VIP entry to Nightclub
VIP Table with bottle service

Call 1.800.VEGASVIPfor exclusive pricing

BOOK / Inquire

2 Club Tables w Limo

What's included:

Vegas VIP Host
Limo Transfer to strip club
Strip club VIP entry & bottle service
Limo Transfer to the nightclub
Nightclub VIP Entry & Table
No Line (includes cover)

Call 1.800.VEGASVIPfor exclusive pricing

BOOK / Inquire
VIP Packages for Ladies
VIP Entry for Ladies

What's included:

Limo transportation
Dedicated VIP Host
VIP entry to Nightclub
Nightclub Tour

Call 1.800.VEGASVIPfor exclusive pricing

BOOK / Inquire

Queen of the Night

What's included:

Limo transportation
Firefly dinner with 2-hour open menu & bar (all inclusive)
VIP entry and "HOT Seats" at Chippendales Show
VIP entry to the Nightclub with bottle service

Call 1.800.VEGASVIPfor exclusive pricing

BOOK / Inquire
Foundation Room October, November 2023 Events Calendar
Foundation Room Nightclub Las Vegas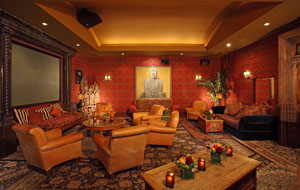 Located at the top of the Mandalay Bay Hotel, the Foundation Room is a restaurant, nightclub, and lounge with an unparalleled view of the Las Vegas Strip. Foundation Room is a private, members only club with locations in New York City, New Orleans, Chicago, Los Angeles, Dallas, and Houston. Membership has its privileges included unlimited access to all its locations restaurants, nightclubs, and lounges in each of its venues. Foundation Room is the private club associated with the House of Blues music venues located across the country. House of Blues plays host to many famous music acts from 311 and Puddle of Mudd to the Wu Tang Clan.
Foundation Room is located in the area where the main elevators of Mandalay Bay are located. There is a podium and wooden entryway that you enter before being whisked up 60 floors to the top of Mandalay Bay Hotel. Upon exiting the elevators, there is a maitre d that is there to greet you. The space has somewhat of a Buddha theme throughout with deep reds, browns, black, and dark green colors appealing to patron's senses. The life size statue of Buddha immediately jumps out as you enter into the venue. To the right of the podium is the main restaurant where you can order American-style dishes with chicken, steak, and fish. Outside of the main restaurant there is a patio with table seating and a spectacular strip view. The outside patio has a long strip-view walkway that leads patrons to the rest of the enormous venue.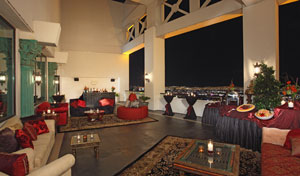 After walking down the walkway and entering the doors back into Foundation Room, you will find the main lounge area with a bar. The lounge area has plush, private couches in front of fireplaces where you can sit, mingle, and enjoy a cocktail. Above the main room are a short set of staircases where the 2 private rooms appropriately called the Buddha Rooms are located. These rooms are perfect for 10-20 guests to enjoy a private dinner or private function. Also connected to the main lounge area is the Media Room. This room sets a simple and quiet tone for guests to relax and converse. Also, there are movies that are playing for people to enjoy. In the main lounge, there are live DJ's that spin the hottest dance tracks as the lounge elevates into a dance club as the night goes on. Down the long corridor there are 4 private rooms that are used for smaller groups to have bottle service in. Further down the hallway is the large private room used for corporate events for groups of up to 100 people.
Foundation Room is one of the hottest venues in town that caters to many types of crowds. If you are looking for and elegant dinner with a strip view, or a nightclub with high-energy dance music, then Foundation Room is a must to visit on your next trip to Las Vegas.