Mayfair Supper Club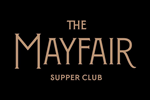 Location:

Bellagio, 3600 Las Vegas Blvd S, Las Vegas, NV 89109

Nights:

MON - THU, SUN 5:00 PM - 12:00 AM
FRI - SAT 5:00 PM - 3:00 AM

Music:

-

Dress Code:

Smart Chic

Local Night:

-
Mayfair Supper Club VIP Packages for Guys
VIP Entry with Table

What's included:

Limo transportation
Dedicated VIP Host
VIP entry to Nightclub
VIP Table with bottle service

Call 1.800.VEGASVIPfor exclusive pricing

BOOK / Inquire

2 Club Tables w Limo

What's included:

Vegas VIP Host
Limo Transfer to strip club
Strip club VIP entry & bottle service
Limo Transfer to the nightclub
Nightclub VIP Entry & Table
No Line (includes cover)

Call 1.800.VEGASVIPfor exclusive pricing

BOOK / Inquire
VIP Packages for Ladies
VIP Entry for Ladies

What's included:

Limo transportation
Dedicated VIP Host
VIP entry to Nightclub
Nightclub Tour

Call 1.800.VEGASVIPfor exclusive pricing

BOOK / Inquire

Queen of the Night

What's included:

Limo transportation
Firefly dinner with 2-hour open menu & bar (all inclusive)
VIP entry and "HOT Seats" at Chippendales Show
VIP entry to the Nightclub with bottle service

Call 1.800.VEGASVIPfor exclusive pricing

BOOK / Inquire
Mayfair June, July 2023 Nightlife Events Calendar
Mayfair Nightclub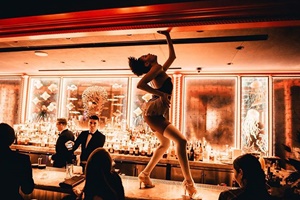 Las Vegas' newest nightlife concept takes dinner and a show to a whole new level. The Mayfair Supper Club at Bellagio brings guests back in time to the glamorous 1920s and 30s. The new club officially opened its doors over New Year's weekend, taking over the space that was formally occupied by Hyde. The Mayfair Supper Club can be found on the 50-yard line of the Las Vegas Strip, a prime location where locals and tourists alike flock for delicious food, entertainment, and the iconic background that is the Fountains of Bellagio.
The Mayfair Supper Club is inspired by some of the most popular supper clubs in the world. The Mayfair is a restaurant first and offers a carefully curated and always changing lineup of premier entertainment with collaboration with No Ceilings Entertainment. In addition to exceptional cuisine, the Supper Club will also be offering its dinner guests entertainment that will encourage you to stick around after your meal. You can expect amazing music, mesmerizing shows, and special events from time to time. While the Mayfair is a sort of club, it does not have your typical nightclub vibe. Instead, guests can enjoy a sophisticated environment that appeals to a younger group.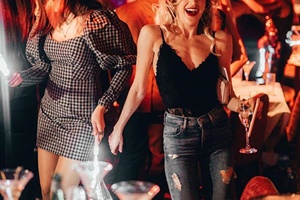 The Las Vegas Supper Club is the creation of MGM Resorts who partnered with New York and London-based company Martin Brudnizki Design Studios to develop the unique look and feel of the restaurant and entertainment venue. From the upscale backdrop and tasty menu options to the high-energy lounge and incredible performances on a nightly basis, The Mayfair Supper Club is the ultimate destination for fun and excitement that lasts well into the night. Unlike most nightclubs where the music can be too loud and overbearing, the noise level at The Mayfair Supper Club is fairly low, allowing for easy conversations and relaxation.
An entire team of talents came together to make The Mayfair Supper Club a reality. This dream team consists of choreographer Dana Foglia who has worked with a number of superstars in the past, such as Jennifer Lopez, Beyonce, and Mariah Carey, makeup director Romero Jennings who is also the makeup director for MAC Cosmetics, costume designer Charlie Le Mindu, script writers Laetitia and Nicky Dewhurt, and musical director Jean-Francois Thibeault. Together, these creative minds created a sleek and romantic atmosphere featuring incredible vocalists, dazzling costumes, and a multi-piece band.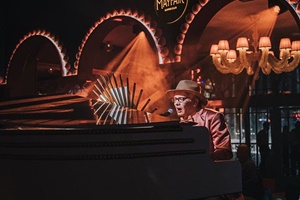 The Mayfair Supper Club offers four extensive menus, including their standard dinner menu, a pre-theater menu, dessert menu, and Mayfair After Dark menu. On their standard dinner menu, you can find tasty options like chilled shellfish, sushi, caviar, appetizers, salads, and entrees like branzino, filet mignon, vegetable pot pie, New York strip, and truffle fettuccine. Their pre-theater menu is available from 5 PM to 6 PM daily and includes a first course of salad or appetizer, followed by a main course, and your choice of dessert. The after dark menu features a number of unique options, such as onion petals, California roll, oysters Rockefeller, and eggs and caviar.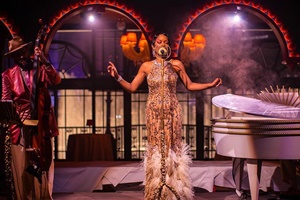 The Mayfair Supper Club offers guests a modern take on the classic American restaurant. With dinner and a show, the Supper Club provides hours of exceptional entertainment and the perfect way to spend a birthday, anniversary, date night, or any other special event. In addition to elevated food, guests can also enjoy cocktail presentations. The Supper Club is opened Sunday through Thursday from 5 PM to 12 AM and Friday and Saturday from 5 PM to 3 AM. Mayfair After Dark occurs every Friday and Saturday. Sundays at the Mayfair are dedicated to jazz. No matter which day you pick to visit, you're sure to experience something special at the Supper Club.