Ghostbar Bottle Service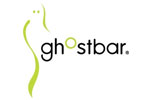 Location:

N/A

Nights:

N/A

Lounge:

N/A

Music:

N/A

Dress Code:

N/A

Local Night:

N/A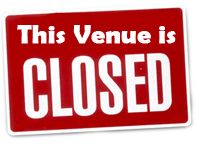 Ghostbar Bottle Service & VIP Packages
Ghostbar Nightclub Las Vegas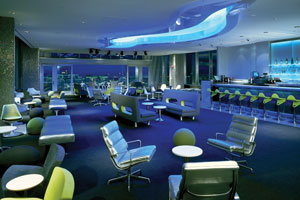 Ghostbar is located on top of the world famous Palms Hotel and Casino and is one of the most fun party spots in Vegas with a strip view to boast. Ghostbar is one of the most popular nightclubs in Las Vegas for the last 5 years running. It was made world famous with a little help from The Real World Las Vegas back in 2002 and has brought in celebrities and crowds to catch the amazing strip view and dance to the high energy music played nightly. Ghostbar is part ultra lounge and part nightclub. There is no specific dance floor, but you can find people dancing at their tables and throughout the venue 7 nights a week.
The lines to get into Ghostbar can stretch all the way from the elevators to the check in desk at The Palms. As you cruise up to Ghostbar's elevators that are in the same area as the elevators to the hotel rooms at the Palms, you will see a long line of people trying to get into the venue to experience it for themselves. Once taking the elevators to the top floor of the Palms, you enter into Ghostbar. After walking down the hallway, the venue opens itself up to greet patrons. On the right is the main bar area where a bevy of beautiful bartenders await to serve you drinks. Across from the main bar is the DJ booth that faces the tables making it easy to see the DJ as you dance the night away. There is a semi-private room along the other side of the DJ with a bar, making it very accessible to get drinks. There are tables and VIP booths throughout the inside of the venue where a staff of gorgeous waitress provide top notch bottle service to it clients. The tables and booths can accommodate groups of 2 people all the way up to 20 people.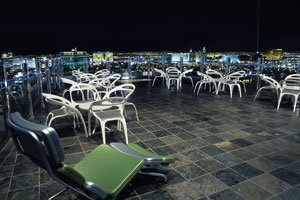 The inside of Ghostbar seamlessly opens up to an enormous outside patio where patrons have an amazing view of the Las Vegas strip from a birds eye view. The left hand side of the patio has a service bar to provide guests with easy access to ordering drinks. There are booths to sit and enjoy the strip view as well. The large patio acts as a place to mingle and dance high above the strip. There is a slate of thick glass that you can stand on and see straight down 44 floors to the ground! Along the outside of the patio there are places to sit and enjoy the view from your own private VIP table as well. Ghostbar is a fabulous place to hold any type of event. From Bachelor parties, weddings, and corporate events, Ghostbar is a hip and fun place to mingle with the stars.