Drai's After Hours Bottle Service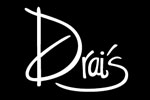 Location:

Ballys Hotel

Nights:

Thursday, Friday, Saturday - Sunday 1am - 8am.

Music:

House, Progressive

Dress Code:

Strictly enforced.

Local Night:

Friday

Drai's After Hours Bottle Service & VIP Packages
VIP Entry with Table

What's included:

Limo transportation
Dedicated VIP Host
VIP entry to Nightclub
VIP Table with bottle service

Call 1.800.VEGASVIPfor exclusive pricing

BOOK / Inquire

2 Club Tables w Limo

What's included:

Vegas VIP Host
Limo Transfer to strip club
Strip club VIP entry & bottle service
Limo Transfer to the nightclub
Nightclub VIP Entry & Table
No Line (includes cover)

Call 1.800.VEGASVIPfor exclusive pricing

BOOK / Inquire
VIP Packages for Ladies
VIP Entry for Ladies

What's included:

Limo transportation
Dedicated VIP Host
VIP entry to Nightclub
Nightclub Tour

Call 1.800.VEGASVIPfor exclusive pricing

BOOK / Inquire

Queen of the Night

What's included:

Limo transportation
Firefly dinner with 2-hour open menu & bar (all inclusive)
VIP entry and "HOT Seats" at Chippendales Show
VIP entry to the Nightclub with bottle service

Call 1.800.VEGASVIPfor exclusive pricing

BOOK / Inquire
Drais December, January 2024 Events Calendar
Drai's Las Vegas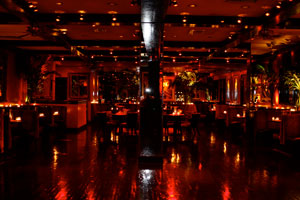 Award winning French gourmet restaurant by day and world renowned afterhours hotspot by night, Drai's at the Bills Gambling Hall stands at the forefront of afterhours entertainment in Las Vegas. Owned by movie producer Victor Drai, this sexy underground hideaway keeps the party going until the sun comes up and beyond. If you spend a night dancing away to the energetic mixes of some of Las Vegas' best House DJs, you will probably be paying for it in the morning, but the hangover is well worth it.
Once you walk down the long stairway or go down the elevator you are engulfed in a dimly lit sea of maroon corridors, palm trees and abstract art. Down the first corridor you will come across the first room, the library. It's no secret why the room is called the library. There's a large book case against the wall and the carpeting is what you would find in a traditional library setting. There are a number of large booths and tables in this room, perfect for mingling in case you want to be away from all the action around the bars and dance floor. Just beyond this room is the first of two bars located in Drai's. A room is solely dedicated to the bar, so there is a lot more room to navigate. This makes getting a drink a lot easier since you aren't shoulder to shoulder with everybody else at the bar.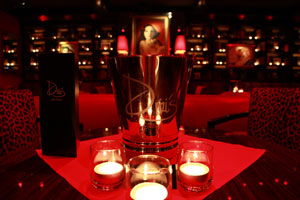 To the right of the bar you will come to the main room where the dance floor is located, along with the very accessible DJ booth, so you can make your favorite song request. Framing the recently expanded dance area are a number of over-sized booths intended for bottle service. What was already a fairly large space is now even bigger, which makes the room feel very open and inviting. Continuing past the main room is another larger lounge area complete with plenty of booths, tables and the second full bar. If bottle service isn't quite in your price range, you can still sit down and enjoy a large plate of french fries with your friends. There are a few other clubs in town that double as restaurants during the day, but Drai's is unique. Drai's Afterhours is the only nightclub that still has a kitchen staff ready to serve up gourmet meals during the late hours of the night. If you are going to last until the sun comes up, a late night snack will defiantly help you ward off the sandman. So if you are looking for the hottest after hours club in town, where you can dance till the morning light while nibbling on a gourmet sandwich, Drai's is where it's at.