Las Vegas Stagette Party & Hen Nights
Stagette Party & Hen Nights Las Vegas
The stagette party – singlehandedly one of the most important events a girl will go through within her lifetime. Sure, there's the wedding and the potential birth of her first born – but things like the bachelorette party accents these once-in-a-lifetime ordeals. Since it's so important, it's imperative that the party is a memorable occasion; something that stretches beyond the norms of partying and includes every naughty facet and remotely erotic detail that hen nights are known for. Luckily, one can always turn to Las Vegas to combine the best of all worlds into one single occasion. With a Las Vegas stagette party, the bride-to-be may forget about the wedding altogether and just party her budget away.
Stagette Party Packages
Bachelorette Blast

What's included:

Limo Transfer to Sapphire
Vip Seating at MEN of Sapphire
One Free Round of Shots
Limo Transfer to Caesars Palace
VIP Entry to Pure Nightclub
$99 / GIRL

Call 1.800.VEGASVIPfor exclusive pricing

BOOK / Inquire

Remember This Night

What's included:

Limo Transfers to each Venue
Dinner at Fireflly Tapas Restaurant
Includes Pitchers of Sangria / Mojitos
Vip Seating at OG Men of Olympus
Entry to PB, Moon, Ghostbar, Rain
$199 / GIRL

Call 1.800.VEGASVIPfor exclusive pricing

BOOK / inquire
What makes a Las Vegas stagette party so good? To start, Sin City has the perfect environment for an occasion such as this. With its abundance of night clubs and strip clubs, figuring out how to get where you're going is the least of your worries. While it may seem impossible to pinpoint one or two locations as the party's location, you can rest assured that no matter what venue you pick, the bachelorette will be beyond pleased. From places like the Encore's Surrender to the much more modest Hyde at the Bellagio, each nightclub on the Strip is equipped to handle any sort of party.
With that worry set aside, now it's time to figure out transportation. Limousine services offer transfers to and from a vast assortment of nightclubs and strip clubs. Depending on the size of the party, you'll be able to decide between anything from the basic stretch to the massive Pink SUV limousine. You can either stay modest, or ride around in a nightclub on wheels with the Pink limo, which is so bright and obnoxious that it's the perfect compliment to the hen night.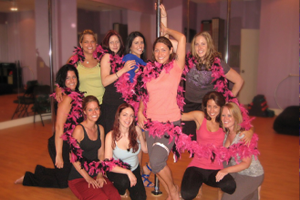 No stagette party is complete without the prospect of near naked men, and this is something that Vegas is proud to be able to offer. If you're looking for the best male revue in town, you'll want to bring the party to Sapphire. The Men of Sapphire premiers the hottest bods in Vegas in a strip show exclusive to the ladies of Vegas. Make it known that you've got a bachelorette with you, and the lady of the hour may be in for an up close and personal surprise. For something with a little more production value, Australia's Thunder from Down Under at the Excalibur delivers on all levels. This choreographed routine brings to the main stage the best male dancers since Chippendales (which is also a must see at the Rio).
Las Vegas earned its nickname long ago, and ever since it has clutched tightly to it, making it the best city for a bachelorette party. It's opulent transportation, high end nightclubs, and tantalizing strip clubs all comingle to provide the perfect pre-wedding bash – one that the bride-to-be is sure to remember on every anniversary.