Las Vegas Stag Party
Stag Party Las Vegas
What do you get when you put a group of guys right in the heart of Las Vegas? You get the opportunity for one heck of an evening. Of course, that evening could also be as dull as watching the grass grow, but not when you plan ahead. A Las Vegas stag party has the potential of being a wild event, complete with plenty of alcohol, a lot of dancing, and half-naked ladies. All it takes is reserving one of our finely tuned packages, all stocked with transportation and VIP hosted entry to some of Sin City's hottest nightclubs and strip clubs.
Stag Party Packages
The Hangover

What's included:

Limo Transfer to Gordon Biersch
Dinner at Gordon Biersch w/ Beer
Limo Transfer to The Bank Nightclub
VIP Hosted Entry to The Bank Nightclub + Table
Limo Transfer to Sapphire Strip Club
VIP Hosted Entry to Sapphire Strip Club + Table

Call 1.800.VEGASVIPfor exclusive pricing

BOOK / Inquire

Peaks & Peaks

What's included:

Limo Transfers to Twin Peaks
Dinner at Twin Peaks including apps, food, beer, gratuity & tax
Limo transfer to Sapphire Strip Club
VIP Hosted Entry to Sapphire + Table

Call 1.800.VEGASVIPfor exclusive pricing

BOOK / inquire
Being a group of stags in the middle of Vegas shouldn't be a dull situation to find yourselves in. You should be able to make the most out of your time, experience some true nightlife action, before heading back home. You should leave Vegas with a hint of regret but plenty of memories that you won't ever forget. Your stag party should start off with premium transportation, a limousine that will transport you to the nightclub or strip club of your choosing. Aboard this luxurious ride, you will get the opportunity to hoot and hollar up and down the Strip as you're brought to your destination.
When you arrive to wherever your party is starting, you will be greated by a Vegas VIP host, who will ensure that you skip the pesky line and get immediate access to the club. Beyond the door, a VIP table and a bottle of premium liquor awaits you and your party. VIP seating is going to do more for you than you expect. Sure, you get a great view of the dance floor, but you also start to attract some much wanted attention from ladies. Before you know it, your party will have grown and you'll be making plenty use of the free mixers that comes with your VIP experience.
Party During the Day
Nobody says your stag party has to be at night. There is plenty of daytime entertainment to be had in Las Vegas, including a variety of pool parties and dayclubs. Take a gander at Encore Beach Club or Drai's Beach Club for some of the hottest daytime pool parties. In the off season, when the pools are closed, you can still make use of the light at dayclubs like Ghostbar Dayclub, where the party is just as hot during the day as it would be at night.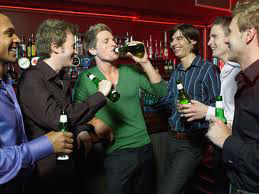 More Than Just Clubbing
Not every stag party needs to be about partying, though. Maybe you and your guys just want to enjoy each other's company and try something new. Helicopter tours that circle the Strip and luxury car rentals are just a selection of the activities you and your guys could do if clubbing isn't quite your scene. Shooting ranges around town also cater to stag parties, allowing guys to show off their firearms prowess. Make a game of target practice by keeping a tally of the worst shooters and make them down shots at a bar or nightclub later. No matter what you do, throwing your stag party in Vegas definitely won't be amongst your regrets in life.
To book your exciting stag party and make the most of our time in Vegas, call us today at 1-800-VEGASVIP. One of our VIP hosts will assist you in creating the perfect package for your liking or you can just book one of our preset packages.