Las Vegas Nightclub Crawl
Nightclub Crawl Las Vegas
Sometimes, a night on the town in Las Vegas is best spent with a group of people that you may not even know. One up and coming popular method of enjoying everything Sin City has to offer is the "Club Crawl". Known for offering more than just one point of entertainment for the evening, the Club Crawl is the perfect way to thoroughly enjoy every aspect of Las Vegas. When you hit the nightclub scene on any regular night, not only are you subjected to waiting line in hopes to join in on one massive party that you may not even fit into, you're not even guaranteed entry. With a Club Crawl, you can eliminate all the nuances of clubbing in a big city while gaining some rather useful perks.
With a Club Crawl, you'll be introduced to a fun group of people you may normally have overlooked and will bounce from location to location with that same group, creating a mobile party that you'll actually feel included in rather than on the outskirts of. Where a Club Crawl differentiates from "Club Hopping" is in the fact that you're not on your own. While club hopping, it's up to you (or your group) to choose the club, pay for the cover charge, and retrieve your own drinks. Throughout the night, any sort of added perks are taken care of for you. The basic idea behind the crawl is that you'll have a concierge at your disposal the entire night ensuring that all promised commodities – such as free beverages, food, and any required transportation – are presented to you accordingly throughout the night.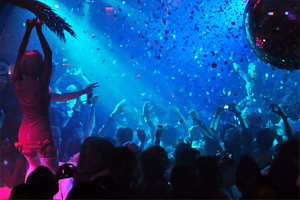 Each Club Crawl will present you with drink tickets and an assortment of food to ensure that the one price you initially pay for the crawl to the final definitive price for the night. You can drink more than the tickets you have, but they will most certainly be on your own dime. Included in paying for your cover charge at any of the night's venues, use of a Club Crawl may also get you free or discounted access to any of the locations VIP services. If there's one thing that every clubber wants a part of, it's the VIP seating and treatment.
Though the name may lead you to believe that you're limited to just nightclubs, your mobile party can find itself within the welcoming atmosphere of many of Las Vegas' bars and ultra lounges. Each night there is a different set of locations for every Crawl; this change in scenery more than warrants signing up for a few nights in a row.
So when you're looking for the best way to spend the night on the town, don't even think about overspending on door cover charges, drinks, and transportation. Let a Club Crawl provide you the best experience you can have in the company of others looking for the same good time as you are.