Las Vegas Cinco de Mayo 2015
The weather is warming up and all of the pools on the Strip are starting to get crowded, and that really can mean many things; but one thing it does signify is that we've encroached on spring. Within the season of spring, there are many holidays to celebrate. Easter, Passover, Earth Day, Administrative Professionals' Day (really, look it up. It exists), and Memorial Day are amongst a few that stand out, but there is one holiday that, though not everybody celebrates it, everybody knows what day it falls on. Surely, I'm talking about Cinco de Mayo, the 5th of May. Let's start with a little history lesson, shall we? It's a common misconception that Cinco de Mayo is the day of Mexico's Independence; rather, the day holds different meanings depending on the person. To some, it's simply a day used to celebrate Mexican heritage and pride. History buffs will recognize it as the celebration of the victory at the Battle of Puebla, where the Mexican Army sacked French forces in an unlikely victory. Realistically, though, Cinco de Mayo does have one universal meaning – Amazing drink specials and day long celebrations!
Cinco de Mayo Las Vegas
Want to do something different and exciting than the typical Vegas experience? Then you and your best friends should come and shoot guns with us at American Shooters located just minutes off the strip. Vegas VIP provides the best transportation to get your group from the hotel to the venue about 10 minutes off the strip.
Cinco de Mayo Packages
VIP Table with Limo

What's included:

Vegas VIP Host
Limo Transfer to Nightclub
Nightclub Entry
VIP Table(Guaranteed)
$99 / PERSON

Call 1.800.VEGASVIPfor exclusive pricing

BOOK / Inquire

Girls Wanna Have Fun

What's included:

Limo Transfer to Show
Men Show Entry + Table
Champagne
Limo Transfer to Nightclub
Nightclub Entry
No Line (includes cover)
$129 / PERSON

Call 1.800.VEGASVIPfor exclusive pricing

BOOK / inquire

Two Club Tables with Limo

What's included:

Vegas VIP Host
Limo Transfer to Stripclub
Stripclub Entry + Table
Limo Transfer to Nightclub
Nightclub Entry + Table
No Line (includes cover)
$149 / PERSON

Call 1.800.VEGASVIPfor exclusive pricing

BOOK / Inquire
minimum of 6 people, customer must meet bottle minimum, packages subject to availability.
Now that the history lesson is out of the way, we can focus on what's really important. Las Vegas is undoubtedly a unique city in that no matter what culture you follow, you'll find that your holidays and customs are celebrated in some way, shape, or form. Cinco de Mayo is no exception to this rule; in fact, it's far from it. You will come to find that Las Vegas businesses will find any reason to open the flood gates on alcohol. On Cinco de Mayo, business all along the Strip jump on the Mexican celebration bandwagon with a slew of parties, events, special guest appearances, and, of course, drink specials that borderline the absurd. How you decide to spend your 5th of May is all on you, but you can at least have the satisfaction of knowing that no matter where you hole up, you will be a part of one hell of a party.
As the weather will undoubtedly be on the warmer side, you will probably want to start your day off lounging by one of the many adults-only pools in Las Vegas. From Wet Republic at the MGM Grand to Encore Beach Club at the Encore Resort, you will find yourself intermingling with a diverse crowd of fellow partiers. Expect unforgettable day-long drink specials on tequila; but don't forget to order a glass of water or two with every drink. The May Las Vegas sun is sure to be shining, and you simply don't want to be the one that passes out in the midst of the party. Who knows what will be drawn on your face by the time you wake up. Depending on where you set up shop for the day, you'll definitely find yourself treated to celebrity guest appearances and special guest DJs that will keep the party fueled. Honestly, there's no wrong choice when deciding where to lounge during Cinco de Mayo's sunnier hours; it's all just a matter of preference.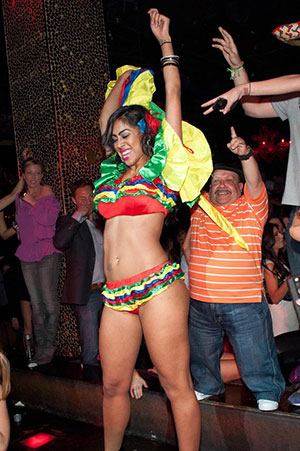 All that pool partying is sure to get your appetite worked up, so the next decision that must be made is where to grab a bite to eat. Unlike the pools, this decision actually comes with some consequences. Choose wisely, and you'll find yourself knee deep in senoritas and $1 margaritas. One establishment you may want to check out is Tacos and Tequilas within the Luxor Resort and Casino. The name alone lets you know that you'll be in for a treat with an extensive menu of tequilas and many variations on the common taco. Right down the road from Tacos and Tequilas is another authentic location known as Diablo's. Adding a little Americanized flair to their Mexican cuisine, Diablo's at the Monte Carlo will surely be opening its doors to all that wish to take part in this Mexican holiday.

Check out Javier's at the Bellagio, Diego at the MGM, Taqueria Canonita at the Venetian, or even the Border Grill at Mandalay Bay for some of the best drink specials and authentic Mexican food on the Strip.

You feeling full? Have plenty of tacos, enchiladas, and nachos in you? Well, you're going to have to deal with it, because now its time to hit the Strip's nightlife! Much like the resort pools, deciding on a nightclub simply depends on your tastes. No matter where you look, you'll find signs advertising celebrity appearances and special guest DJs, so find one that has someone you care to see or listen to and go there. It's simple as that. Well, not really. Make sure you go for a VIP package to ensure you even get inside your club of choice. As a VIP, you'll get front-of-the-line access and a bottle of the club's premium liquor. Some of the best club's to consider will be the Palm's Ghostbar and Chateau at the Paris, both of which give a premium look over the Las Vegas Strip. Whatever you do and wherever you decide to party, make sure you arrange for transportation afterwards. There's no doubt you'll be three sheets to the wind by the end of the night and will have no business getting behind the wheel.

Don't hesitate too long when making plans. Cinco de Mayo in Las Vegas is a big deal, and restaurant reservations and VIP at nightclubs sell out really quick. You don't want to be stuck online listening to the faint roar of everyone else having a grand old time. You just don't. So get your sombrero ready, make a few phone calls, gather your closest group of friends and, well, just kind of hang out and wait for April to finally end.

By "Dan Nunes"