Las Vegas Fourth of July 2022
Las Vegas Fourth of July 2022
Fourth of July VIP Packages
Fourth of July Daylife

What's included:

Vegas VIP Host
Limo Transfer
Encore Beach Club VIP Cabana
All Inclusive

Call 1.800.VEGASVIPfor exclusive pricing

BOOK / Inquire

Fourth of July VIP Party

What's included:

Vegas VIP Host
Limo Transfer to XS
XS Nightclub VIP Entry
All Inclusive

Call 1.800.VEGASVIPfor exclusive pricing

BOOK / inquire

Fourth of July 24hr Party

What's included:

Veags VIP Host
Limo Transfers
VIP Cabana at Marquee Dayclub
TAO Nightclub Bottle Service
VIP Entry to a Strip Club + Table
All Inclusive

Call 1.800.VEGASVIPfor exclusive pricing

BOOK / Inquire
- minimum of 6 people - customer must meet bottle minimum - packages subject to availability -
Fourth of July Las Vegas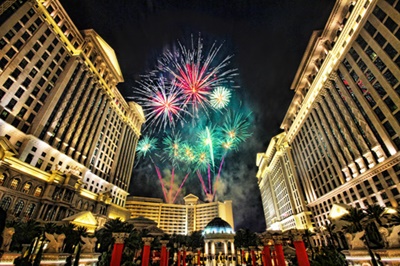 Pool parties, parades, and fireworks are just a few of the festivities that you'll find in Las Vegas on the Fourth of July. If you're looking for a way to declare your Independence, why not do so with your favorite cocktail in hand while listening to a live DJ just a stone's throw away? The nightclub scene in Vegas is particularly amazing in the days leading up to July 4 th . Starting Friday the 29 th , you can expect a range of patriotic- themed events at the dozens of resorts, clubs, and bars that line the street of Las Vegas. Here are just a few of the best 4 th of July events that you will not want to miss.
Beer Park at Paris Las Vegas
Located on the second floor at Paris Las Vegas, Beer Park is the ultimate place to host a Fourth of July party. The 10,000 square foot space will open its doors starting on Sunday July 2 nd . Enjoy a BBQ picnic, ice cold beer and amazing views of the Las Vegas Strip from the rooftop bar and grill. At 9:00 p.m., the iconic casino will also be the perfect spot to watch the fireworks display shot at Caesars Palace.
Go Pool Party at Flamingo
With temperatures surpassing three digits, there's no place many would rather be then in the pool. Keep cool while celebrating Independence Day by spending the day at the Go Pool Party at Flamingo. The pool party kicks off on Saturday July 1 st with doors opening early at 9 a.m. Be sure to grab your tickets if you wish to enjoy the range of live entertainment at Flamingo, including 8KY (formerly of LMFAO), DJ Eric Forbes, and host Brian Thomas.
Cookout at SLS Las Vegas
Cookouts are a must-have on the Fourth of July. However, you don't need to stay in your backyard to enjoy a delicious feast. SLS Las Vegas is the site of one of the best July 4 th events in Vegas. In addition to a grand cookout, patrons can enjoy drink specials, a live DJ, and access to the Foxtail Pool. The SLS Las Vegas Cookout will be held on Saturday, July 1 st and Sunday, July 2 nd . During your visit, be sure to sample the All-American favorites, such as burgers, hot dogs, chicken sandwiches, and of course bucket after bucket of beer. You can even get a hold of a special July 4 th cocktail.
Party at Wet Republic MGM Grand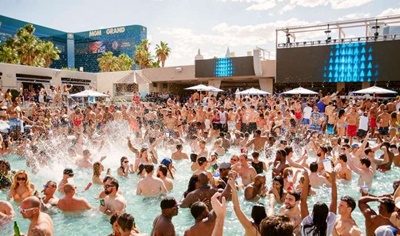 Wild pool parties are in full effect Fourth of July weekend. You'll find many of the crowds flocking to the Wet Republic Ultra Pool at MGM Grand to enjoy the luxury amenities available. Grab a group of friends and invest in a bungalow or cabana. There are also daybeds and saltwater pools, along with plenty of room for dancing and mingling. Throughout the weekend Wet Republic will host celebrity DJs, including Steve Aoki on Saturday, July 1 st , Tiesto on Sunday, July 2 nd , and Fergie DJ on Monday, July 3 rd .
Freemont Street Experience
For a whole new Fourth of July experience, head down to Freemont Street in Las Vegas. The fireworks show is like nothing you've seen before as they're all digital and pretty amazing to watch. There will also be performances throughout the evenings, with American Freedom 3 at 8:00 p.m., Green Day – Revolution Vegas at 9:00 p.m. and Imagine Dragons at 10:00 p.m. Even more performances will take place after 1:00 a.m.
Ready to enjoy the Fourth of July festivities in a way that only those in Las Vegas can? Then be sure to stay up-to-date on all the action that will be happening. Check out the 4 th of July weekend nightlife calendar at Bachelor Vegas.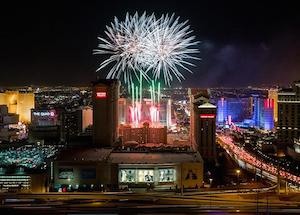 It's that time of year again. No, not the one with the creepy big fat guy that throws toys down your chimney. It's time to celebrate your Independence Day. Time to honor America in the only way we deem fit - by partying until your body can't handle it anymore. Nightclubs up and down the Las Vegas Strip aren't shy about hosting parties for the Fourth of July, and the special guest DJs that fuel these parties aren't shy about keeping the energy at a constant high.
Being right at the start of the summer, you can expect that pool parties all across Vegas will be hosting some of the wildest and hottest parties that even you couldn't dream up. You'll want to check out dayclubs like the always popular Encore Beach Club. These slice of Las Vegas extravagance provides guests with a daytime party venue where anything from lounge chairs to full-sized bungalows are available for some rest and relaxation. Book your cabana or bungalow immediately so you can party all day and still have a place to retreat to when your body gets tired.
Rivaling the party at Encore's daylife establishment are pool parties like TAO Beach, Moorea at Mandalay Bay, and the MGM Grand's WET Republic. You can bet that the sun will be shining, and with a cabana rental at any of these exciting parties, you can escape the brutal desert sun for a little bit without having to leave the party entirely.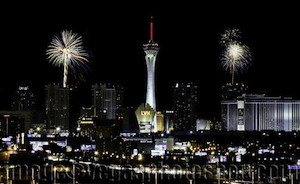 At nightfall, things get even more heated at Las Vegas premier nightclubs. The bigger parties will be found at places like the opulent XS, the always popular Marquee, and the intriguing Surrender. World class entertainment honors America with pounding bass and plenty of high end entertainment. To make the most out of your Fourth of July, you will definitely want to make use of the club's VIP tables. When you book your extravaganza, you will want to make sure you're getting VIP access to the nightclub of your choosing. You can bet that these events will be crowded, so reserve your spot immediately.
The highlight of every Independence Day, year after year, is the fireworks show, and the Las Vegas Strip does not dial back on the explosives. Resorts including the Mandalay Bay, the Stratosphere, and Caesar's Palace are typically headliners in Sin City's fireworks production, firing off an impressive, colorful display for all to see. The problem being, of course, if you're stuck in a nightclub, you're going to miss out on the festivities.
When choosing your nightclub, consider options that have balconies or rooftop partying. Ghostbar at the Palms includes a balcony with an amazing panoramic view of the Strip while VooDoo lounge's rooftop venue is arguably the best spot to watch the show from. If you want to stay on the Strip, a club like Chateau with its outdoor balcony will provide a great outdoor space to party on and catch the light show.
To guarantee you get the most out of your Fourth of July, book your party through us here at Vegas VIP today.