Pool Party Dress Attire and Dress Code
Attending a Las Vegas pool party requires a little more prep time than what it takes to throw on a swimsuit. The hottest Vegas pool party locations have strict dress codes that require both men and women to look stylish and on-trend. Just like most of the local nightclubs, you will be turned away at the door if you fail to follow the pool party dress code. Before heading to Wet Republic, Encore Beach Club, Marquee Dayclub, or one of Vegas' other premier pool party locations, be sure that you're rocking the right attire.
Men Pool Party Attire
Getting to the pool often means walking through a casino or resort. You'll want to remain fully clothed until you hit the pool. Men should stick with a plain tee or V-neck. In some instances, sleeveless tank tops are acceptable. However, you want to avoid shirts that would be considered athletic wear. For the bottoms, stick with stylish board shorts that are neither too long nor too short. Gym shorts are generally a no-go and will likely get you turned away at the door. Also avoid baggy clothes, clothes with chains, or see-through swimwear.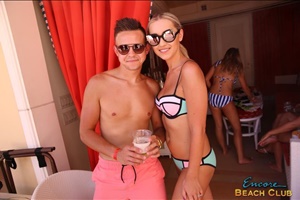 As previously mentioned, you will likely need to walk through the resort to get to the pool party location. This means you have to wear some type of footwear. While flip-flops are usually allowed, they don't always give that "trendy" appearance that most day clubs desire in their guests. However, you want to avoid athletic footwear and hard-soled shoes. For men, some of the best footwear options include Jack Purcell's or Chuck Taylor's. Slip-on boating shoes can be highly convenient as you can pull them off as soon as you get to the pool, allowing you to achieve a more beach-like environment.
Women Pool Party Attire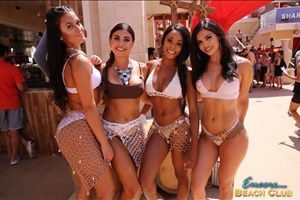 Just like men, women should be covered up when they arrive to the venue. This typically means a shawl or some other type of swimsuit cover-up. Underneath, sport a stylish bikini or sexy one-piece suit that fits well and complements your curves. Consider current trends, such as bold colors or patterns. If you're going with a one-piece suit, consider one with fun cut-outs or attractive details such as ruching. Certain types of attire are off limits, such as those with hooks, studs, or rivets, as well as clothes with offensive prints. String and pasties are also forbidden at most beach clubs.
The dress code can change slightly depending on where you go. While some day clubs encourage women to wear heels, others do not allow any type of hard-soled shoes. However, you can still make your legs look fantastic with a pair of stylish wedge sandals with a non-slip sole. As an alternative, consider a pair of trendy flat sandals in a color that complements your suit. What you want to avoid are cheap flip-flops which may result in the bouncer turning you away. Also avoid any type of sneaker and athletic shoe.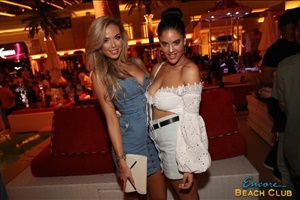 While you wouldn't ordinarily do your hair and makeup to go to the beach, in Las Vegas things are a little different. Before heading to a local pool party or beach club, you want to make sure you are dressed to the nines. This means doing your hair and makeup and making yourself look classy and upscale. However, you don't want to overdo it and look like you're heading to a nightclub. Check out the club's dress code policy before arriving to be safe. In addition, keep the wearable technological accessories at home, including any smart glasses and cameras. Remember, what happens in Vegas stays in Vegas.