Centerfolds Strip Club Las Vegas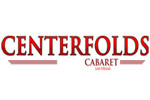 Location:

4416 Paradise Rd, Las Vegas, NV 89169

Open:

Daily 6PM – 6AM

Music:

House, Hip-hop, Top-40

Alcohol:

Yes. Full stocked bar
Centerfolds Club VIP Packages
2 Club Tables w Limo

What's included:

Vegas VIP Host
Limo Transfer to strip club
Strip club VIP entry & bottle service
Limo Transfer to the nightclub
Nightclub VIP Entry & Table
No Line (includes cover)

Call 1.800.VEGASVIPfor exclusive pricing

BOOK / Inquire

24 Hour Party

What's included:

Limo transportation
VIP entry to pool party
Reserved pool cabana/daybed at your choice of TAO Beach, Marquee Dayclub, Drai's Beach Club, Wet Republic, Encore Beach, Daylight, Bare or Liquid Pools
Limo transfer to your choice of Restaurant
All inclusive set menu dining
Limo transfer to nightclub
VIP bottle service at the top nightclub
Limo transfer to strip club
VIP entry to after hours party

Call 1.800.VEGASVIPfor exclusive pricing

BOOK / Inquire
Centerfolds Strip Club Las Vegas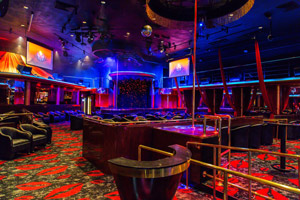 For classy, friendly, and sexy entertainment, come to Centerfolds Cabaret in Las Vegas. Formally Club Paradise, Centerfolds is one of the newest gentlemen's clubs to hit the city. The club can be found on Paradise Road just across the street from the Hard Rock Hotel. In the spacious venue you'll find several showrooms that showcase a team of beautiful and talented performers who have perfected the art of sensual dance. Centerfolds Strip Club is the perfect destination for bachelor parties and other occasions when you and a group of buddies want to relax and let loose.
The world-famous Centerfolds Cabaret in Las Vegas offers a wide array of luxury services to make your visit as memorable as possible. In addition to top-notch table service, the strip club is equipped with several bars stocked with top-shelf liquor and some of the finest wines and champagnes available. Go to the exclusive Crystal Room to enjoy an intimate visit with some of the most beautiful entertainers in Las Vegas. This adult lounge is the ultimate escape for those who prefer classy adult entertainment and complete discretion and optional privacy at every visit.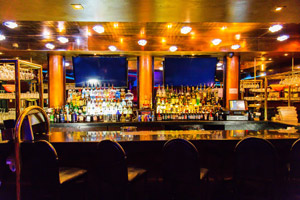 At Centerfolds Cabaret, the attentive staff and friendly entertainers will try to meet your needs as soon as you walk in the door. If you're planning on showing up with a large group, try to call ahead at least a few hours to give management a head's up. This will help ensure that you get the top-notch service you expect. Like at many strip clubs, Centerfolds Cabaret handles reservations on a first come, first serve basis each night. If you plan on hosting a bachelor party or other celebration at the club, we recommend that you call at least 24 hours in advance to obtain a specific time request and tables.
Speaking of parties, Centerfolds is the perfect place to host a get-together with friends. The strip club provides special treatment to groups celebrating special events, such as bachelor parties, bachelorette parties, birthday parties, and more. Exactly what can you expect to receive? Access to fantastic money-saving party packages, VIP bottle service, and premium seating in the club that will give you privacy and up-close-and-personal action with the beautiful dancers. If you have any other special requests just run them by management and they'll likely be happy to oblige.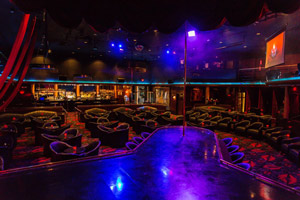 Centerfolds Cabaret has upped its entertainment factor with the introduction of numerous events. From their New Year's Eve Masquerade Party to their Strip Fest featuring live entertainers, the club is frequently hosting new and interesting events. However, these types of events book fast so be sure to reserve your spot quickly. If you're new to the Las Vegas strip club scene, be sure to look the part. While the dress code can differ from club to club, most require that you look professional and sharp. This means no shorts, sandals, and similar items. You're going to be around lovely women all night so you want to look your best.
Centerfolds strip club is an old-time elegant strip club with a modern twist. The club is open daily from 6 PM to 6 AM and is available to adults age 21 and older. There is no self-parking available, only valet. To get into the club, the cover charge is typically $45. If you're in Las Vegas on vacation, work, or any other reason, take a night off to relax at Centerfolds Cabaret. Its laidback atmosphere, friendly staff, and beautiful women will take your mind off your worries, leaving you completely relaxed and stress-free.