Aussie Heat Male Revue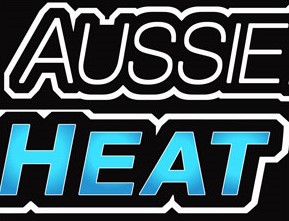 Location:

at Mosaic Theater On the Strip

Nights:

Thu to Mon at 10:00pm-11.30.pm

Local Night:

N/A
Aussie Heat Male Revue VIP Packages
Bachelorette Party

What's included:

Call 1.800.VEGASVIPfor exclusive pricing

BOOK / Inquire

Just Because Party

What's included:

Limo Transfers
Premium Chippendales Show Tickets
Limo Transfer to Mandalay Bay Hotel
VIP Club Hopping to Mandalay Bay Clubs
VIP Entry to Light & Foundation Room

Call 1.800.VEGASVIPfor exclusive pricing

BOOK / Inquire
Aussie Heat Male Revue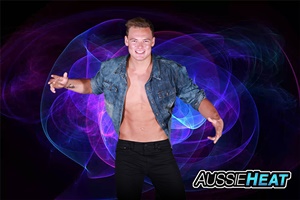 Las Vegas is no stranger to risqué shows and high-energy performances. This is exactly what you can expect when you settle in for the Aussie Heat male revue show. The gorgeous cast of talented men offers a 75 minute show that will leave you at the edge of your seat until the very last minute. Aussie Heat performs every evening at 10:30 PM at the V Theater, Miracle Mile Shops at Planet Hollywood. Grab a cocktail upon arrive and sit back and get ready to be seduced by Australia's hottest export.
Aussie Heat features an all-star cast of some of Australia's most talented break dancers, poppers, and hip hop and freestyle dancers. Each one has a chiseled body and new-age revolutionary dance moves designed to make women swoon. These are not male strippers, but professional dancers who also strip. The sultry show first began in July 2015 in the D Hotel Showroom at Freemont Street. After performing night after night for hundreds of audience members, Aussie Heat quickly became one of the top rated adult shows in Las Vegas. If the guys look familiar, know that this isn't their first time in the spotlight. The crew previously appeared on Australia's Got Talent and later on So You Think You Can Dance Australia.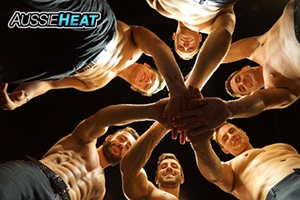 Are you in search of the perfect activity for a girl's night out? Or perhaps you want a fun and wild way to celebrate a birthday, divorce party, or vacation getaway? No matter the circumstances, there's no better way to enjoy a night in Las Vegas than at the Aussie Heat male revue show. As soon as you arrive to the show, you'll be ushered into the theater where you can grab a seat. On the way, you'll have the opportunity to pick up some 'Hunk Bucks' which you can use to flag down the cast during the show for some one-on-one attention.
What makes Aussie Heat great is that they are continually reinventing themselves. Every time you go to see a show, you can expect to see bigger and better changes. The regular show revamps include new music, innovative dances, and elaborate props and lighting equipment which take the show to the next level. Aussie Heat is generally performed to a high-energy soundtrack of pop music. However, you may also see the guys dancing to hip hop and incorporating slower sensual dances and strip teases.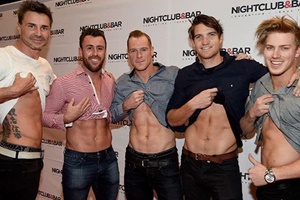 The Aussie Heat male revue show is one of the few places in Las Vegas where you can go for some naughty, yet safe fun in a professional environment. Up on stage, the group of dancers works hard to bring your every fantasy to life, resulting in an electrifying experience like you've never seen before. If their sultry dance moves don't pull you in, their authentic Australian accents will. With near-perfect bodies and charming personalities, the men of Aussie Heat are the perfect source of adult entertainment for all women ages 18 and up.
Aussie Heat, which was originally known as Aussie Hunks, isn't your average Las Vegas show. Whether the guys are thrusting, gyrating, or performing back flips in front of your eyes, every moment will keep you engaged. If you want to get even more involved in the show, get a VIP ticket. With a VIP ticket, you'll have the chance to meet the guys before the show. You'll also get a free cocktail and seats in the front show. With a few Hunk Bunks in hand, you can even get a personal lap dance. Grab your tickets today to see the famous Aussie Heat in Las Vegas.