Las Vegas Male Strip Clubs
Featured VIP Packages for Girls
Thunder Light

What's included:

Call 1.800.VEGASVIPfor exclusive pricing

BOOK / Inquire

Hen Night

What's included:

2 hour Strip Cruise Limo transportation
VIP entry and "HOT Seats" at Chippendales Show
VIP entry to Voo Doo Lounge after the Chippendales show

Call 1.800.VEGASVIPStarting at $119 per person

BOOK / Inquire
Hot Chicks

What's included:

Call 1.800.VEGASVIPfor exclusive pricing

BOOK / Inquire

Last Supper

What's included:

Limo transportation
Firefly dinner with 2-hour open menu and bar with tax and waitress gratuity included
VIP seating and 1-round of house shots at MEN of Sapphire Male Review
VIP entry to Hakkasan Nightclub

Call 1.800.VEGASVIPStarting at $169 per person

BOOK / Inquire
Vegas February 2023 Strip Clubs Calendar
Excalibur Hotel & Casino

SAHARA Las Vegas

Rio All-Suite Hotel & Casino

Excalibur Hotel & Casino

SAHARA Las Vegas

Senor Frogs

The Black Magic Live

Excalibur Hotel & Casino

Aussie Heat

SAHARA Las Vegas

Senor Frogs

The Black Magic Live

Excalibur Hotel & Casino

Aussie Heat

SAHARA Las Vegas

Senor Frogs

The Black Magic Live

Excalibur Hotel & Casino

Aussie Heat

Senor Frogs

Excalibur Hotel & Casino

SAHARA Las Vegas
Las Vegas Male Strip Clubs
Strip clubs are a common form of entertainment in Las Vegas. These venues feature sexy dancers, sensual music, and flowing alcohol which draw in people of all ages for some adults-only fun. While most people associate strip clubs with beautiful women, Vegas offers numerous male strip clubs.
If you're hosting a bachelorette party, girls' night out, birthday party, or other celebration, consider stopping by a male strip club for a few hours of excitement. Check out our list of top Las Vegas male strip clubs and male revue shows.
Male Revue vs. Male Strip Club
If you're new to the Las Vegas nightlife scene, you may be confused when it comes to male strip clubs and male revue shows. These two types of entertainment have both similarities and differences that must be considered before arrival.
Male strip clubs are similar to your traditional strip club setting. There are handsome men who remove clothing while they grind on a stripper pole. Like a female strip club, a male strip club may offer both stage shows and private shows in VIP rooms. The men in male strip clubs are typically more intimate and accessible, meaning you can get up-close-and-personal.
With male revue shows, you pay to see a show which is typically choreographed to music. The men are in peak physical shape and dance to practiced routines using a variety of props.
Top Male Strip and Revue Shows
There are many incredible male strip clubs and male revue shows in Las Vegas. Some of the most popular male strip clubs and male revue shows in Vegas include:
1. Men of Sapphire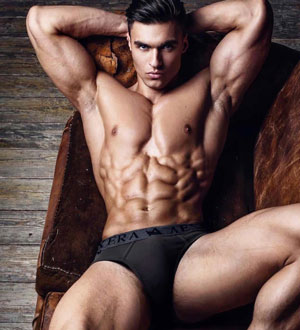 Men of Sapphire is a professionally choreographed, high energy male revue show that features hot male stripers and private lap dances. The male revue is set inside the world-famous Sapphire Gentlemen's Club which spans more than 71,000 square feet. The all-male revue and striptease theater features seductive choreographed acts and an interactive and entertaining MC who hosts the evening.
At Men of Sapphire, guests can enjoy personal lap dances, private room lap dances, and up close views of exciting stage dances. This extraordinary show is a great way to start any bachelorette party or girls' night out. Drink costs can vary at the Men of Sapphire show. You can expect to pay between $15 and $25 for a beer and between $20 and $35 for a mixed drink. Bottle service is also available.
2. Kings of Hustler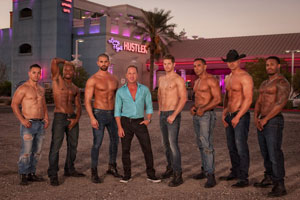 Kings of Hustler is one of the newest strip clubs to arrive to Las Vegas. This amazing male revue show recently relocated to the third floor of the world famous Larry Flynt's Hustler Club and has since gained even more popularity. This new venue offers more perks than the previous location, such as an outdoor patio that offers incredible views of the Las Vegas Strip.
A show from the Kings of Hustler is an all night affair. From the world-class lighting and full bar to the live DJ and professional staff, every aspect of the show is amazing. Kings of Hustlers features a group of hunky, multi-ethnic guys that will keep you entertained for hours. Unlike other strip clubs in Vegas, the Hustler Club almost never feels crowded even when the place is busy. However, you'll want to arrive early to get a great seat.
3. Men of Vegas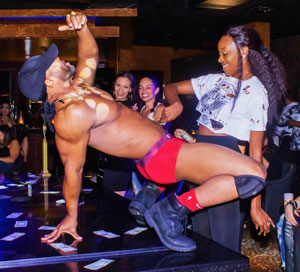 Men of Vegas is one of the city's newest male revue shows, offering hours of adult-only entertainment. The group of talented guys performs choreographed dances to great music and backed by sensual theatrics. The show has a fast-paced energy that will keep you on the edge of your seat. Men of Vegas is a multi-media experience that ends with a one-hour performance where the guys meet the audience members.
While Las Vegas is no stranger to great male revue shows, Men of Vegas stands apart from the rest. The group works hard to bring new music, dancing, humor, and acrobatics to every performance. The show is PG-21, meaning no nudity; however, there are plenty of sensual routines that make the show a must-see. What makes Men of Vegas different from your standard male strip club is the production value.
4. Magic Mike Live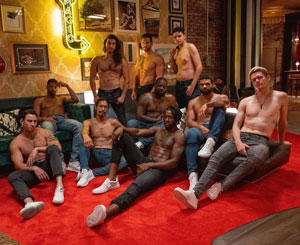 Magic Mike Live was conceived and directed by Channing Tatum. The live show offers guests an unforgettable evening of sensual, 360-degree entertainment that is based on the film franchise Magic Mike. Guests can enjoy a 90-minute show that includes a group of sexy, talented guys that perform heart-pumping dance routines and acrobatics. This high-end production is performed in a state-of-the-art venue.
The Magic Mike live show aims to make women feel like goddesses. You'll even have a chance to meet these friendly guys after the show. Audience members are escorted to a meet and mingle where they can get to know select members of the cast and perhaps even take a photo. If you splurge on the VIP experience, you'll receive some souvenirs and other perks.
5. Chippendales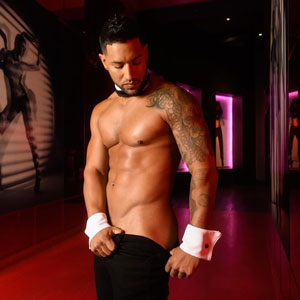 Chippendales has long been called the hottest male revue show in Las Vegas. The performance can be seen inside the Rio All-Suite Hotel & Casino where the guys have planned a refreshed show with new dance numbers, music, acrobatics, chorography, and stunning men. Chippendales consists of 12 dancers, each with perfectly toned physiques.
The world famous Chippendales bills itself the "ultimate girls' night out" and it always meets expectations. The show is tasteful while still being adventurous and steamy. The men know exactly how to captivate your imagination and go above and beyond to bring your fantasies to life. It's truly a show that you must see for yourself if you're ever in Las Vegas.
6. Thunder from Down Under
Thunder from Down Under is Australia's hottest export and a popular addition in Las Vegas. This intimate Vegas show features a group of Australian hunks who show off their chiseled bodies while performing seductive dance routines. The show has plenty of great music, cheeky humor, and boy-next-door charm from the entertainers. It's one of the best shows on the Strip.
You can find Thunder from Down Under at their exclusive showroom at Excalibur Hotel & Casino. You'll have the opportunity to get up-close-and-personal with the guys, making it the perfect interactive entertainment for bachelorette parties, divorce parties, and girls' night out. Don't forget to grab tickets for the show the next time that you're in Vegas.
7. Black Magic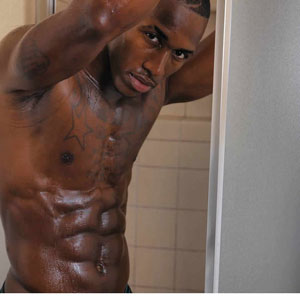 Black Magic is a sexy Las Vegas stage show that features a cast of exotic male dancers from reality TV actress, Vivica A. Fox. The performance is the first of its kind, inspired by Fox's hit Lifetime TV series, "Vivica's Black Magic." The all-black male dance group features some of the hottest choreographed dance moves and stripteases that you'll see in Vegas.
The cast of Black Magic is made up of several gifted entertainers, including Silk, Heat, Cream, Storm, Mr. Incredible, Bolo, GQ, Jamaica, Slam, White Chocolate, Lover Boy, and special guest, Charm. The show delivers incredible production value, including amazing stunts and tricks. After the show, you'll have the chance to hang out with the guys in a meet up located in the Pamper Room.
8. Aussie Heat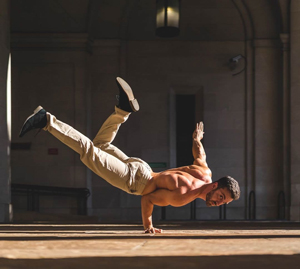 Aussie Heat features a group of shirtless men from the Land Down Under. This interactive male revue bills itself as the hottest, "most hands-on show in Vegas." Aussie Heat includes a remarkable dance crew that was originally known as the Aussie Hunks. The group first got their break when they appeared on So You Think You Can Dance Australia and Australia's Got Talent.
Aussie Heat first opened their erotic hip-hop strip show in 2015 at The D Casino & Hotel in Downtown Las Vegas. They then moved locations to their current venue at The Mosaic Theater, a standalone theater located on the Las Vegas Strip. Here you'll find the guys performing high-energy dance routines with top-tier music production. The 90-minute male revue show is the perfect place for a bachelorette party or other event.
Male Strip Club Etiquette
If you have never been to a male strip club or male revue, you may not be aware of the etiquette to follow. Many of these rules are similar to gentlemen's clubs and are designed to respect the entertainers. First, you'll want to keep your hands off the dancers unless he places your hands on him. Some venues do allow you to touch the dancers but it's better to ask first. Just remember to treat the dancers like you'd want to be treated.
Next, remember that cash is king. Always bring enough cash with you to tip the dancers. Although most strip clubs have ATMs, they always charge a hefty withdrawal fee that is considerably more than other ATMs. You'll also want plenty of money with you for drinks and personal dances. Tips are not only for stage dancers, but also for bartenders, bouncers, and bathroom attendants.
You'll also want to leave any technology behind. Do not spend the evening looking at your phone or texting. Stay in the moment and enjoy the show. Most male strip shows also forbid photography, including pictures taken on cell phones. If you are caught taking photos, you may have your phone confiscated. If you want to commemorate the event, check to see if there are photo opportunities after the show.
Planning Your Visit
Las Vegas is home to some of the hottest male strip clubs and male revue shows in the world. There is no better place to spend an evening out with your girl friends then at one of these venues where the goal is to provide you and your friends with endless entertainment. Start planning your visit to Las Vegas now and be sure to grab tickets to some of these amazing shows.