Holstein Restaurant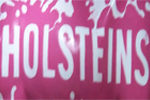 Open:

Tuesday - Thursday, Sunday I 11AM - 12AM
Friday - Saturday, Monday I 11AM - 2AM

Price:

$$$$

Cuisine:

American

Location:

3708 Las Vegas Blvd South Las Vegas,
NV 89109

Holstein Dining Packages
Last Supper

What's included:

Call 1.800.VEGASVIPfor exclusive pricing

BOOK / Inquire

Sinner & Dinner Package

What's included:

Limo transportation
Last supper dinner at the restaurant
VIP bottle service at Sky Fall

Call 1.800.VEGASVIPfor exclusive pricing

BOOK / Inquire
Holstein Las Vegas
When you first hear of Holsteins, you may think that you're being introduced to a new deli in town. Wrong. Holsteins is a new Las Vegas restaurant that specializes in turning cow into delicious hamburgers. At the Cosmopolitan of Las Vegas, Holsteins caters to the dinner and late night dining crowds, specifically the bachelors and frat boys that tend to make the Cosmo their headquarters during their trip to Vegas.
Before you even dive into Holsteins dinner menu, you'll want to take a gander at the appetizers to see if you need to start your meal off with more delicious food. Choices like the southern fried chicken fingers, bucket of buffalo wings, crispy calamari, buttermilk onion rings, and fried pickles top off a starter menu of 14 different delicious options.
Holsteins specializes in making delicious, juicy, perfectly seasoned burgers, and the menu makes sure you know that. If you're not a red-mean type of person, though, there is more to order, and these dishes are essentially just as flavorful as the burgers. Dishes like the crispy pork belly on a steamed bun, ahi sliders, Chicago dogs, or the Maine lobster roll. Flavor drips off of these tiny buns, making you wish it were socially acceptable to lick the plate.
The show stealers are the burgers, though, served with tiny shoestring fries or thick, meaty steakcut fries. The burgers are tenderized and seasoned to perfection, ensuring that they stand out amongst any of Sin City's burger joints. The traditional classic burger, served with lettuce, tomato, onion, mayo, ketchup, and pickles, sets the tone for the rest of the burger menu. The BQQ slathered Memphis burger, Teriyaki glazed Kobe beef burger, and a truffle marinated portabella mushroom burger deliver bursts of flavor with each bite.
Other takes on the classic hamburger, like the "Meat Ball" burger, which is a trio of beef, pork, and veal topped with pecorino and provolone cheese, the "Urth" vegan burger, or the Big Fat Greek lamb burger with tatziki sauce show how far the chefs are willing to go to make this a pleasant experience for all kinds of diners. Seafood lovers will enjoy the blackened salmon po' boy, Holsteins take on the classic po' boy sandwich. Feeling like a million bucks? The Billionaire Burger will cater to your rich tastes by delivering up kobe beef, foie gras, port onion marmalade, frisee, and truffe mayon for a truly decadent and opulent meal.
Burgers can come as listed or with extras added on. So if you're one that likes fried eggs on your burger or some wild mushroom and smoked bacon, you will want to take a look at the list of additions you can throw on. You can even add lobster and smoked BBQ pork for some real added flavor.
When you're done downing your burger, you'll want to take a gander at Holsteins' other specialty - shakes. Down the Drunken Monkey, a mix of Reese's peanut butter, banana, malt, and Frangelico or the Birthday Cake, 3 Olives Cake Vodka, birthday cake crumble, and sprinkles. These adults-only shakes are the best compliment to any of Holsteins' delicious burgers and sandwiches. Other flavors like chocolate covered strawberry, red velvet, tiramisu, and Oreo make for some deliciously sweet beverages.
Thanks to Holsteins' late night menu, this is the perfect place to come to once you're done partying at Marquee. Dance off those calories and put them right back on with any combination of Holsteins delicious options.