Diablos Restaurant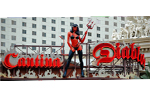 Open:

11:00am - 11:00pm daily

Price:

$$$$

Cuisine:

Mexican

Location:

3770 Las Vegas Blvd.
South Las Vegas, NV 89109

Diablos Dining Packages
Last Supper

What's included:

Call 1.800.VEGASVIPfor exclusive pricing

BOOK / Inquire

Sinner & Dinner Package

What's included:

Limo transportation
Last supper dinner at the restaurant
VIP bottle service at Sky Fall

Call 1.800.VEGASVIPfor exclusive pricing

BOOK / Inquire
Diablos Las Vegas
You've been walking all day and that fast food lump in the bottom of your stomach says you made the wrong choice for dinner. You are in Las Vegas. Sin City. The capital of all things entertainment and food, so why did you resolve yourself to some greasy, indistinguishable fast food mess when you had the choice of premium restaurants all around you?
Let's rewind to that moment where you decided to do something quick and easy. You've just passed the Monte Carlo when your stomach grumbles angrily at you. It's time for food. Surely there's a fast food joint nearby, right? Probably, but there's also a place called Diablo's Cantina blazing right in front of you. It looks friendly, it looks fun, and, being on the Strip, the food is probably pretty good.
Wrong. The food is very good at this Sin City take on a Mexican restaurant. Favorites like the chips and salsa, chips and quacamole, taquitos, queso fundido, tamales, and even the fully loaded potato skins are great starters at this cantina. Not sure what appetizer to start with? Try the Diablo's sampler, which includes tastes of the taquitos, hot wings, potato skins, and angry calamari.
Do you like burning your stomach lining? Maybe a days worth of heartburn and indigestion sounds like fun to you? Than the Diablo's Death Wing challenge is all for you! If you can stomach 20 of Diablo's death wings, you will be immortalized on the hall of fame. It's the little things in life that excite us.
Whether you go for Diablo's death wings or move on will determine how the rest of your dining experience goes. Moving on, you will get to choose a selection of soups or salads. BBQ ranch, caesar, and chicken tostada salads are made with fresh greens, sharp cheeses, and flavorful dressings. The tortilla soup is a hearty combo of chicken, veggies, cilantro, and tortilla strips.
Seeing as how this is a traditional Mexican restaurant, there's no reason not to expect an entire quartet of nachos to choose from. Chicken, skirt steak, four cheese, and a combination of the three offer up giant plates of crispy corn tortilla chips and flavorful, if not a little spicy, ingredients. Served with pico de gallo, guacomole, and sour cream, these nachos can be a meal all their own.
The entree menu is where Diablo's takes a bit of a liberty with its authentic Mexican fare. Sure, it offers tacos, burritos, fajitas, and quesadillas of many varieties, but it also throws in sandwiches and burgers, just to throw you off. So, someone in your party may order the street taco or chicken fajita or ultimate 5-layer quesadilla while another will go for the BBQ pulled pork sandwich, buffalo chicken sandwich, or the jumbo burger, topped with a mess of fixings like crispy bacon, onions, swiss, blue cheese, and jalapenos.
Specialty entrees add a slight bit of elegance to Diablo's. Carne asada steak, grilled salmon, wood grilled chicken, chili rellenos, and tequila baby back ribs show just how refined the chef's palates can be. Served with a side of onion rings, rice and beans, Mexican rice, or ranchero beans, these entrees are completely satisfying.
Don't settle for third rate fast food when you can go for something real and delicious. You're in Las Vegas. Why waste the calories on something you can eat within five miles of your home?