Fogo De Chao Restaurant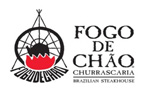 Open:

Monday - Thursday, 5 p.m. - 10:00 p.m., Friday: 5:00pm - 10:30pm,
Saturday: 4:30pm - 10:30pm, Sunday: 4:00pm - 9:00pm

Price:

$$$$

Cuisine:

Brazilian Steakhouse

Location:

360 E. Flamingo Rd Las Vegas, NV 89169

Dining Packages
Last Supper

What's included:

Call 1.800.VEGASVIPfor exclusive pricing

BOOK / Inquire

Sinner & Dinner Package

What's included:

Limo transportation
Last supper dinner at the restaurant
VIP bottle service at Sky Fall

Call 1.800.VEGASVIPfor exclusive pricing

BOOK / Inquire
Fogo De Chao Las Vegas
Have you ever eaten at a Brazilian steakhouse? The real question, actually, is whether or not you've sat down at a table, been given a card with a red and a green side, and then been served what seems like an endless stream of meat? If the answer is no, than no, you've never really eaten at a Brazilian steakhouse. To say that eating at such an establishment is an experience would be putting it mildly. Places like Fogo de Chao here in Las Vegas are almost like meat-themed carnivals. Each trip the gaucho chefs make around the restaurant, passing your table and leaving behind a slice of tender, juicy meat is like a delightful ride on a merry-go-round - sans the nausea afterwards.
A place like Fogo de Chao, located in Las Vegas' Hughes Center business park, is stocked to the brim with meat. Succulent, juicy, perfectly seasoned meat that you will never be able to burn out of your mind. Sure, "meat" is a pretty general term, so let's break down what exactly your tastebuds will be experiencing.
On one round by your table, the gaucho chefs may bring around a piranha, a top sirloin served with either a light seasoning or a version cooked with a heavy garlic seasoning. The crisp fat on the outside makes every bite a flavorful delight. The second pass will present to you two different types of filet mignon. One tender grilled masterpiece, the other wrapped in a crispy layer of bacon to provide maximum flavor. Like any filet mignon should be cooked, Fogo de Chao's chefs take care to slow grill to ensure juices aren't lost int he process.
If you've never had a rib eye before, than when the gauchos swing by with their cuts of beef ancho, you'll want to grab a slice of this moist treat. A top sirloin and bottom sirloin will follow, expertly cut and seasoned to perfection. Moving away from steaks, the gauchos will bring around a wrack of costela, or beef ribs. These large portions are grilled for many hours to maximize tenderness and flavor.
More exotic tastes come in when the cordeiro makes its way around the table. This rack of lamb chops or tender leg of lamb will let you try something that you may have never had before. From lamb you'll move onto the familiars of pork loin and pork ribs. It's easy to dry out pork, so when you get these juicy morsels on your place you'll be delighted to see the flavorful juices running down the ridge of your plate. Following will be cured pork sausage, seasoned and cooked to pop with flavor in your mouth.
Of course, chicken needs to make its rounds and it does in two different forms. Savory chicken legs marinated in a housemade sauce and bacon wrapped chicken breasts are great bites to eat, seasoned to perfection to ensure guest satisfaction.
It's a lot of meat to take in and truly enjoy on your first go, so chances are you're going to need to make a return trip or two to Fogo de Chao, especially when you consider a seafood menu that you hadn't even expected. Chilean sea bass or jumbo shrimp cocktail served on ice are great compliments to the mounds of red meat you're likely to have on your plate.
Complimenting ay choice of meat you decide to partake in is a full salad bar or an endless serving of some of Brazils treasured side dishes. Warm cheese bread, crispy polenta, garlic mashed potatoes, and caramelized bananas make for the perfect accompaniments to whatever you decide to let on your plate.
Try Fogo de Chao today. Then wait a day or two before going back and trying it again to make sure you get a real taste of every meat they serve.