Rehab Pool Party
Cabana Rentals & Bottle Service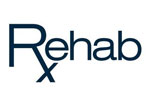 Location:

N/A

Open:

N/A

Music:

N/A

Attire:

N/A

Seating:

N/A
Rehab VIP Packages
Dayclub / Nightclub

What's included:

Limo Transfer to Rehab
VIP Entry to Rehab
Limo Transfer back to Hotel
Limo Transfer later to Nightclub
VIP Entry to a Top Nightclub

Call 1.800.VEGASVIPfor exclusive pricing

BOOK / Inquire

Life's a Beach

What's included:

Limo transfer to Rehab
VIP entry to Rehab
Reserved pool cabana/daybed
Food & beverage minimum included

Call 1.800.VEGASVIPfor exclusive pricing

BOOK / Inquire
Rehab October, November 2021 Events Calendar
Rehab Pool Party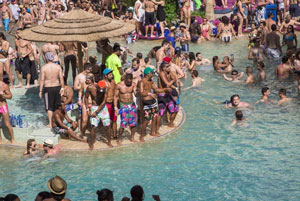 You've been working on that deep tan getting yourself ready for the coming summer months. Now that you're a nice bronze color, you've got to decide how you want to flaunt it. Do you want to just show enough of those perfectly tanned legs on the dance floor to tantalize all the men at a nightclub, or do you want to flash as much as possible poolside in the hot desert sun? If you play your cards right, you can essentially do both without leaving the comfort of one area.
Nestled within the Hard Rock Hotel and Resort is an area known for its rehabilitation abilities. Every Sunday the Hard Rock's resort-styled pool, a mass of individuals gather together to help one another recover from a weekend typically filled with heavy drinking and lots of partying. The irony behind Hard Rock's Rehab pool party is that while it's meant to be a "rehab" from the usual Las Vegas weekend, it is just an outdoor extension to the parties you're trying to recover from. If you don't mind the extra day of partying, though, you should get your tan-lined butt down to the Hard Rock on your next free Sunday.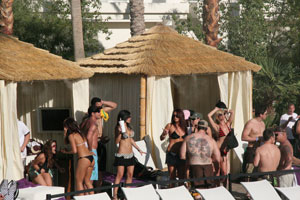 At Rehab, if you want to stand out you'll have to wear as little as humanly possible (without bearing anything inappropriate). With the slew of guests that take shelter in the hotel's large party, there will be plenty of competition if you're looking to be the center of attention. Luckily for you, Rehab is home to world class resident and guest DJ's that'll give you a steady beat to shake your money maker to. With your body gyrating to those sexy beats, you're bound to grab the attention of a Las Vegas socialite – and with that attention comes VIP service.
While the prices of the poolside cabanas sky rocket during Rehab, if you're on the arms of the right guy you'll never have to know the price. Included in a cabana rental are a flat screen TV, mini-bar, and the perfect view of the festivities. If the guy that picks you up is a true gentleman, you'll never have to leave the comfort of the abode. Imagine being apart of one of Las Vegas' largest parties and not once having to lift a muscle (save for a few dance moves) or shell out any cash.
If you're not the type to want to be pampered, you can still find a heap of enjoyment out of attending Hard Rock's Rehab. The pulsating bass will work its magic on your hips, and when mixed with alcohol, you'll find yourself full on grooving to the masterly spun tunes. If you're going to attend just one party this summer, it really should be Rehab. So go get those legs waxed and throw on that skimpy bathing suite, because this is one bash you won't want to miss.