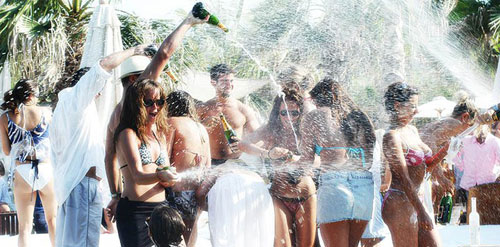 Nikki Beach Club
Cabana Rentals & Bottle Service
Since Las Vegas is experiencing no shortage of nightclubs, day clubs, or resort pools, it's important for the countless number of similar venues to stand out amongst the sea of other comparable locations. Some locals accomplish this through the use of celebrity guest appearances while others equip their poolside "housing" with things like flat-screen TV's and full-sized bathrooms. What seems to have been overlooked, though, is that despite what you're offering, it's all about presentation – a fact shown true at Tropicana's Nikki Beach Club.
| | |
| --- | --- |
| | |
Despite the fact that Nikki Beach Club has the same basic amenities that can be found in other five-star day clubs like the Cosmopolitan's Marquee, Nikki's presentation of these services, while not as showy as some of the others, is top notch and promises a unique experience. Available cabanas give the renter access to a slew of exquisite and delicious h'ordeuvres and premium liquor, flat screen TVs, and comfortably plush furniture that will make you feel like royalty. Topped off with the presence of a tropical waterfall, Nikki builds upon the usual greenery to offer the look and feel of an island getaway without the worry of tropical storms and tsunamis.
In regards to the staging of the club, this is where Nikki differs and excels. While most clubs offer outdoor gambling, Nikki Beach Club gives its patrons the ability to partake in a game of blackjack without leaving the comfortably cool pool water. Though every Vegas pool club comes equipped with lounges scattered throughout the grounds for private sunbathing, the center of Nikki's pool is home to a private tropical "island", which can be commandeered by a small gathering for a more intimate experience.
In an effort To give everyone the chance to feel like a VIP, Nikki Beach Club and Cafe Nikki pulls out all the stops every Sunday for the "Amazing Sunday" brunch. While guests normally have access to Cafe Nikki's outdoor patio on any given day, the Cafe broadens its usual menu to match the many desires expected at a brunch buffet. Premium beverages will flow while guests indulge in Cafe Nikki's varying food stations, which include everything from waffles to sushi and other varying breakfast and lunch items. Live performances will ring throughout the end of the weekend, giving locals an eventful beginning to the work week.
Despite its ability to attract a crowd, Nikki Beach Club does fall on the smaller side of the spectrum. If you plan to attend any weekend day, especially "Amazing Sunday", it's advisable (if not potentially mandatory) to make a reservation to secure a spot ahead of time. Nikki's has been tagged as the "Sexiest Place on Earth", and with waterfalls, private "islands", and the typical fair of gorgeous Vegasites and celebrity appearances, that title stands true.

Nikki Beach Club Review
---
Nikki Beach Club

0.0

out of

5.0
based on

0

ratings.

0

user reviews