Sugar Factory Restaurant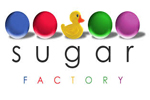 Open:

Mondays - Thursday 11 AM - Midnight, Friday -
Saturday 11 AM - 1 AM, Sunday 10:30 AM - 11:00 PM

Price:

$$$$

Cuisine:

Contemporary American

Location:

6605 Las Vegas Blvd S Ste 145
Las Vegas, NV 89119

Sugar Factory Dining Packages
Last Supper

What's included:

Call 1.800.VEGASVIPfor exclusive pricing

BOOK / Inquire

Sinner & Dinner Package

What's included:

Limo transportation
Last supper dinner at the restaurant
VIP bottle service at Sky Fall

Call 1.800.VEGASVIPfor exclusive pricing

BOOK / Inquire
Sugar Factory Las Vegas
Vic and Anthony. Growing up, they probably weren't anything special, just two guys living the life. At one point, all of that changed, though. Now they are Las Vegas legends. Well, maybe a bit over the top, but they've brought a lot to Vegas that they will be known for - world-class steaks. Located in the Golden Nugget, this chain steakhouse puts out tender, juicy, perfectly cooked steaks along with some other succulent, must-try entrees.
The menu at Vic and Anthony's can be done prix fixe, meaning each course's offerings are preselected by the chef for you. You choose one or two selections from each course, which consists of a starter, entree with side, and dessert. While this may sound like it just limits you in your selections, it actually gives the chef's the opportunity to fine tune a specific set of dishes without worrying about other menu options. At Vic and Anthony's, these dishes are expertly crafted morsels of deliciousness that are going to make you appreciate the prix fixe style menu.
For your first course, you have a choice of lobster bisque topped off with a bit of cognac, a beefsteak tomato and onion salad with roquefort cheese, or an iceberg wedge salad with crumbled roquefort cheese. The lobster bisque resonates a flavor of fresh lobster while the iceberg wedge is made from the freshest of greens and the roquefort cheese lends a saltiness to its dishes. The second choice of dishes you have is your entree. An 8 oz filet mignon, cooked exactly how you want it, a fresh fish a la nage with jumbo lump crab and baby vegetables, and a shrimp scampi bucatini with spicy tomato butter are delicious and offer robust flavors. With these entrees, you are given a side of au gratin potatoes, haricot vert, or creamed spinach depending on what you're in the mood for.
Finally, the dessert. Course three finishes off a well-balanced meal with a croissant bread pudding, creme brulee, or chocolate mousse cake. The sweetness of the chocolate mousse cake and creme brûlée are sure to balance out the savoriness of your entree and starter, but don't discount the elegant taste of the croissant bread pudding.
If you'd rather just choose from a large selection of appetizers, entrees, salads, and soups, than the option is there. Starters like fresh oysters, steak tartare, seafood martini, calamari, maple glazed quail, and fresh oysters Rockefeller make for the perfect beginning to a great meal to come. Included on the soup and salad menu are the bisque and two salads offered on the prix fixe, with the addition of a caesar salad, roasted beet salad, and fresh spinach salad.
Entrees take a turn for the extremely delicious with steaks, roasted chicken, lobster, and crab dishes. The namesake dishes include a filet mignon, prime New York strip, American style Kobe beef, and prime ribeye, with additional fare including veal chop and lamb chops. These meats are seasoned and cooked to perfection. Other entrees, like roasted salmon and chicken paige in a lemon butter sauce, are good for patrons looking for lighter dishes. Alaskan king crab legs and live Maine lobster round off a truly opulent menu.
Whether you go with a prix fixe menu or order straight from Vic and Anthony's own selections, you're not going to be disappointed. Dinner off the Strip has never tasted this good, and until you come back, it probably never will.